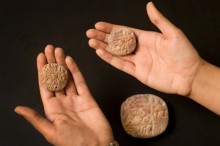 Cornell University Chronicle online journal has an interesting story about the use of 3D scanning and printing to replicate cuneiform tablets from ancient Mesopotamia in the Lab of Hod Lipson, associate professor of mechanical and aerospace engineering.
A Next Engine desktop 3D scanner was used to take 3D laser scans of the tablets. After scanning, the accompanying software, ScanStudio HD was used for post-processing and outputting 3D printable files of the tablets. With the VRML file format, prototypes were made (using ZCorp powder-based ink-jet printers) that match the look of the original tablets in color and texture. The software also has the ability to output the files in STL format for creating prints using other printing technologies (FDM, SLA, etc.) that do not retain color and texture matching.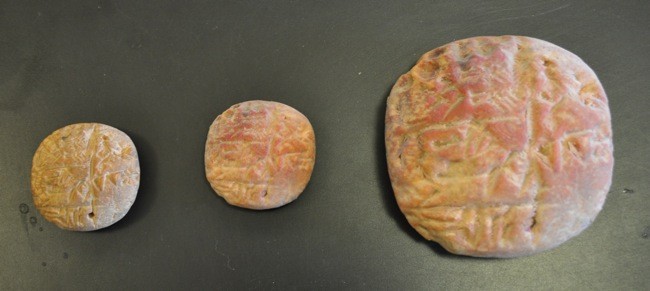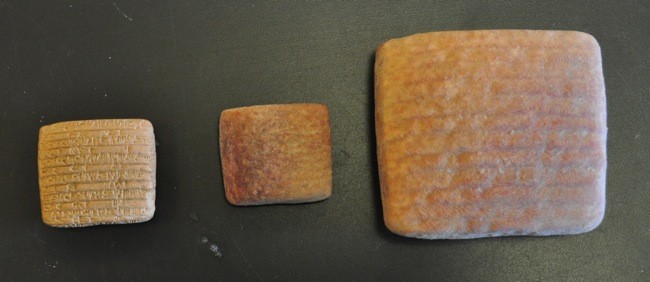 Original and 3D-printed cuneiform tablets: Left: original; Middle: 3D-printed reproduction; Right: Enlarged (x2) reproduction. Produced on ZCorp ZPrinter 650.
Download your own tablets for printing (VRML or STL format)
How to make tablet collections accessible to scholars and students?
Latex molds
"Tablets can be copied using latex molds, but this runs the risk of damaging the original" said David I. Owen, Bernard and Jane Schapiro Professor of Ancient Near Eastern and Judaic Studies.
Photography
The most important recent technological development in the field was digital photography; this allowed millions of ancient artifacts to become instantly available to scholars everywhere. But it is nothing like the real thing
"With a photograph you can see a lot and that's great, but oftentimes you can read even more if you can actually hold the tablet because of the angle of the light — how it hits the signs can help you see it better," added Alexandra Kleinerman '03, a postdoctoral associate working with Owen.
3D scanning and 3D Printing
The first 3-D reproductions looked like the originals, but the smallest signs will require additional refinements before a completely accurate result is possible. Nevertheless, Lipson says they will continue with various techniques and may try using a CT scanner to improve performance.
Source: Cornell University – Credit photo: Jason Koski/University Photography
Related Posts :