Multicolor

Back to all materials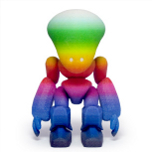 This material is composed of fine mineral powder. 0.1mm layers are constructed one-at-a-time. The minimum size of visible details on the model is 0.4 mm. Minimum wall thickness for this technology is 2 mm. This is the only material allowing full colour (16 million different colours) items in a single pass. This is the cheapest way to build multicolour objects.
The object is as hard and brittle as porcelain, and should therefore only be used for ornaments.
The surface has a grainy, sanded appearance.
Object is shipped in its finished state, and should not be sandpapered, as it would damage the surface. This material should not be exposed to water.
Technology
ZCorp's mineral-based powder is bonded in successive layers using a specific ink-jet 3D printer. After printing, the object is carefully cleaned and infiltrated with cyanoacrylate glue.
Colored
Granular
Breakable
Surface look :





Details :





Strength :





Flexibility :





Price examples:
In 5 cm / 1.97 in : $15.00 - In 10 cm / 3.94 in : $107.00 - In 15 cm / 5.91 in : $344.00
Maximum size for this material
25 x 38 x 20 cm / 9.8" x 14.9" x 7.8"
Details examples :

multicolor 3D printing in video:
---
Sample Kit available for 5$* !
Order it for the best choice of material and a successful print
* Pricing details in the product description"