Unit Price :
Includes sales taxes Excludes sales taxes
×

=
Ships on
Design has fine details which might break, please review its solidity
Your design is colorless, you might want to use a more robust material (such as plastics for example)
The design is too small or too thin to be hollowed
You need at least two holes for each volume that you want hollowed
Some hollowed volumes are missing holes
Hollowing is not available for this material
3D Print Settings
---



g

cm
Print Summary
---
Download Blueprints (to scale)
Drafting your blueprints, this could take a minute...

http://www.sculpteo.com/en/print/pix-pics/23792738563167661558042380648638377645

3D view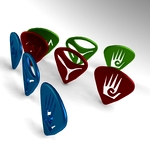 Materials

Optimize

Review
Batch Control
Batch control, available in plastic and multicolor from 20 prints or more, lets you optimize your unit price by dedicating a print tray to your personal production run. Control every aspect, including number, orientation and even the layer thickness to find the mix of budget, quality and finish that best suits your needs.
---
Hollowing
Beta
Hollowing your model and adding holes for recovery reduces the material used, and consequently your unit price. This feature will hollow out the interior of your model where possible and let you choose where to place holes so that we can recover a proportion of the material.
Make the most of our review tools to get the best 3D print possible. Don't worry, these options don't edit your model in any way.
Cutaway View
Cutaway View gives you an x-ray view of your design so you can see it from all angles, inside and out before printing.
---
Solidity Check
Different materials are fragile at different thicknesses (also known as the material's solidity threshold). Sculpteo's automatic solidity check let's you review any potential problem areas before printing. If it's green, you should be good to go, if it's not, you should try a different scale or material.
The material you chose has a solidity threshold of around mm.