Professional quality
2 factories (USA-Europe)
75+ materials available
Nylon, resin, metal
Fast turnaround time in 2 days
Worldwide delivery
Learning by manipulating: 3D print your example to add a new dimension to the educational experience
3D printing allows complex ideas to live in the real world

From mathematics to geography or history, one of the key challenges for education is to allow everyone to grasp the most abstracts concepts. 3D printing is the solution to give them life and allow everyone to physically manipulate complex ideas. Visualizing data into space or creating physical educational material is a great addition to 3D images, texts and videos.

Our different 3D printing materials, like plastic or resin, are very resistant over time, which allows you to transport and manipulate your material without risk. The multicolor material allows you to recreate textures from a historical object or to present data in 3D.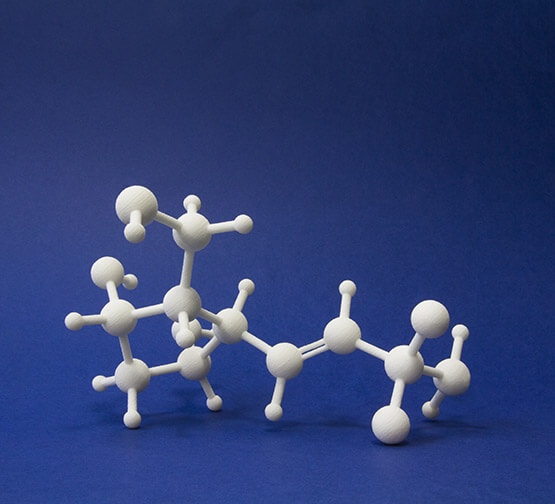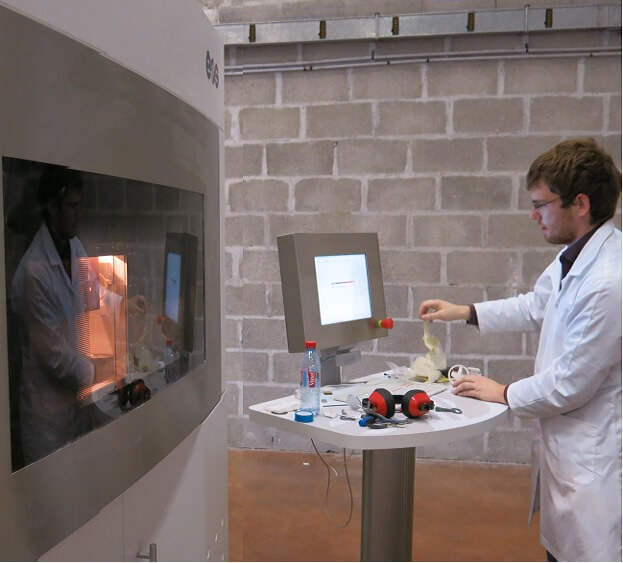 HD 3D printing quality at the best price
Professional 3D printing is very complementary to the desktop 3D printer you can use in your classroom. It allows your students to push their experiments and projects further, by benefiting from a higher 3D printing quality, at the best possible price.

More than 75 materials and finishes are available directly online and the cost for your 3D print is automatically calculated and displayed online, for parts that can be up to 70cm. We are offering discounts for educational projects and bulk orders for your students.

We are 3D printing your order in a few days and shipping worldwide.
Technical, design or engineering curriculum: bring the professional world to your students
3D printing is a great tool for curriculum with a high level of professionalization. Using Sculpteo allows students to understand how they can easily go from a 3D file to a 3D model and a product. Our exclusive online tools allow everyone to analyze, review and optimize 3D files autonomously.

Mecanical parts, architectural mockups, prototypes, art...Online 3D printing gives students the chance to bring their project to life, quickly and in conditions simulating the professional life. Instead of spending time partnering with an outside company, you can use Sculpteo's platform as an online educational tool and concentrate on other topics that matters.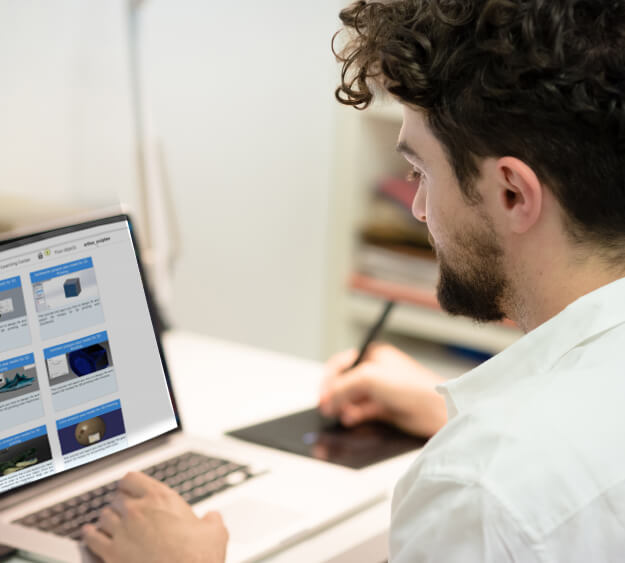 The 4 Sculpteo benefits that make a real difference for the education
High Definition 3D Printing
We're working with a range of full-color or monochromatic high-grade 3D printers that offer excellent accuracy (layer thickness from 25 to 150 microns).
Open 24/7
No need to wait until Monday morning to get a quote, do it online! Our exclusive 3D tools allow you to check the solidity of the walls and how details will render.
For everyone
There's no minimum order, we 3D print your model starting at 1 copy. If you are not in a hurry, we can offer you a cheaper price.
Customized service
We can prepare your 3D file on-request and take charge of the finishing steps (painting, display case...).
They 3D print with us
High-schools, higher education, museums...they choose online 3D printing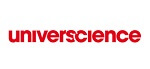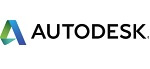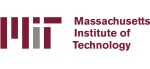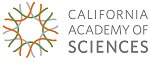 Thanks for the fantastic models you've made for us, and we'll know where to go to get more in the future.
Outsourcing parts allows us to work without the investments and time dedicated to the production aspect. This frees up time for my students' creativity – and they're very happy to see their part for real, and what's more 100% functional in their prototype.
3D printed prototypes and educational parts by Sculpteo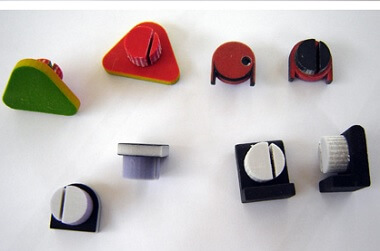 Mechanical parts
High-school students with the help of the technology teacher Jean-Luc Durou are prototyping and 3D printing mechanical parts that they designed on Solidworks. Fast delivery enables them to receive the parts for the next class.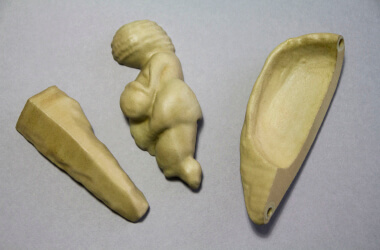 Archeological replicas
The French Science Museum Cap Sciences created a wandering archeological workshop for young children with 3D printed artifacts. These educational objects are replicas from historical treasures of the french museums.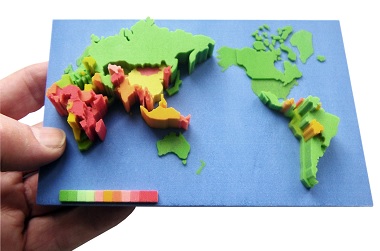 Datavision and 3D maps
Volker Schweifurth from Melies Art transforms the flow of data that we are receiving everyday in physical full-colored objects. He uses multicolor 3D Printing.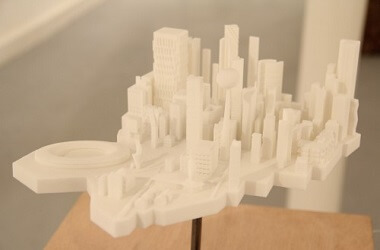 Architectural model
7 architecture students from ENSAD designed this incredible detailed city and choose to 3D print in polyamide for their school exhibition named GIANT.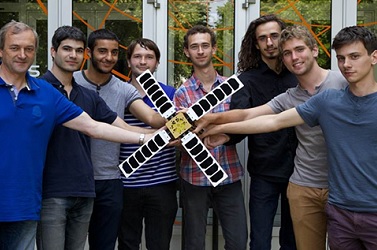 Satellite project by Paris Tech University
Study of a nano satellite for the CNES (IUT of Cachan). Pascal Martinelli of the University Paris-Sud (IUT of Cachan) and his students created 30 prototypes of the EyeSat satellite for the CNES. 80% of the mechanical parts have been 3D printed by Sculpteo.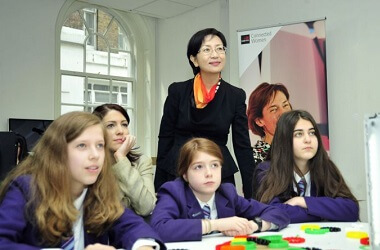 STEM Day for girls
Sculpteo is sponsoring STEM Day for girls and happy to 3D Print science classes projects.
Fast and reliable 3D printing service for all education professionals
You design in 3D
In order to 3D Print, you need to send us a 3D file that you can easily design with a 3D modeling software (or CAD Software). For beginners, we suggest a list of free software and offer free tutorials.
You upload it
30+ 3D file formats are accepted on sculpteo.com! You just need to upload and we'll give a feedback and a quote for your custom part in seconds. We also provide optimization tools to help you to get your scale model at the best price.
What is Sculpteo?
Sculpteo is one of the world's leading 3D printing services based in San Francisco and Paris, founded by Clement Moreau and Eric Carreel. We offer on-demand 3D printing of individual products as well as short-run manufacturing on professional 3D printers located in our factories. The acquired experience and unique processes allow us to offer the most competitive 3D prints both cost– and quality–wise.
Your architectural model and your prototypes can be printed in more than 75 materials and finishes. They include our plastic material with multiple polishing options and colors, our resin and transparent resin, our multicolor material and different 3D printing metal options like sterling silver.
Thanks to our unique technologies, your are able to analyze and repair your 3D file in seconds, review the solidity of the future 3D print and even hollow the inside of the model to make it cheaper to print.
Through a vibrant community, our support and all the
resources
we produce, we are here to give the best advice to use the latest 3D Printing technologies and save your time. Our
blog
highlights many case studies and provides deep
industry-specific analyses.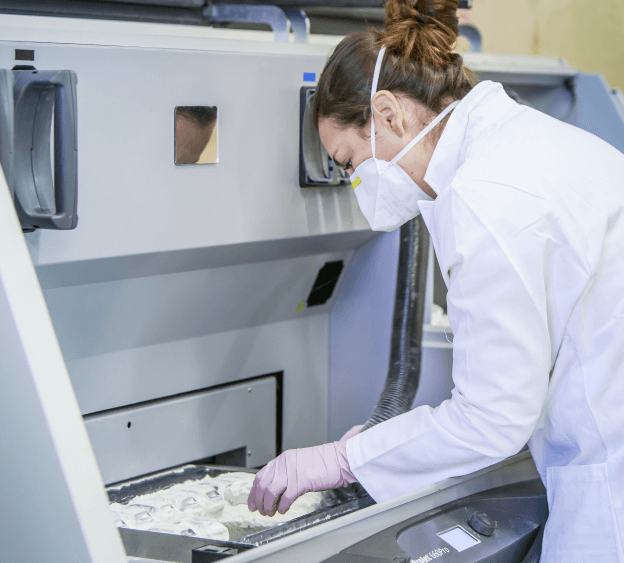 Discover other applications for 3D printing
Chemical Industry

Enlargement of molecular structures and mechanical parts for laboratory tooling.

Learn more...

Electronics

Prototypes and functional parts for Consumer electronics and BtoB electronic devices. Discover 3D Printing benefits for IoT and automation.

Learn more...

Maritime Industry

Prototypes and improved spare part management for shipbuilding

Learn more...