The Sculpteo Bike Project: A Digitally Manufactured Bike Goes on a 1000 km Trip across the US!
What is the Sculpteo Bike Project?
The first functional bike using digital manufacturing
This bike is the first ever fully functional bike created using digital manufacturing. It was designed and created over 7 weeks by two of our professional industrial designers, Alexandre d'Orsetti and Piotr Widelka (that you can see on the video above), and 70% of its parts were created using our online digital manufacturing services.
Its creation cost was less than $4000, which makes it comparable to a bike you could find in retail.
A 1000km trip from Las Vegas to San Francisco & the adaptability of Digital Manufacturing
The Sculpteo Bike Project is also a trip from Las Vegas to San Francisco! To prove that we're using Digital Manufacturing to create real, functioning objects, and not just prototypes, we're making the bike go through a journey across the US. Our two designers Alexandre and Piotr will ride their Sculpteo Bikes for 1000km, from the CES location (the bike was presented at CES2017) to our San Francisco factory. The trip will be entirely documented, and will be an opportunity to learn about the abilities of our materials: the parts will have to resist effort, cold, humidity,... and if some of the parts don't resist, it will be the occasion to design new ones, and to make the most of the adaptability of Digital Manufacturing.
You can follow this trip thanks to this article and thanks to the hashtag #SculpteoBikeProject.
Showcasing the possibilities of our Digital Manufacturing Service
Sculpteo isn't a bike manufacturing company: we are an online digital manufacturing service, and an engineering company. We didn't create the Sculpteo Bike Project to show that we can make bikes, but rather to show one precise, functional application of our technologies and materials, and to inspire our clients to make the most out of them. Our job is to identify and solve complex problems for our clients, with our different technologies, materials, software tools and expertise.
With this in mind, the Sculpteo Bike Project is an excellent proof of concept and a tool to showcase our competences, since a bike is a combination of various parts, that each has to meet specific qualifications, bear specific constraints, and serve a specific purpose. Our designers studied carefully which technology would best fit each part of the bike, and created:
Using our 3D Printing service:
Pedals in alumide using the SLS technology

Connection parts (for the pedals, the saddle, and the handlebars) in rigid polyurethane using the CLIP technology

Connection parts (for the frame and the wheels) in carbonmide using the SLS technology

Brake parts in titanium using the DMLS technology

Brake parts in flexible polyurethane using the CLIP technology

Brake parts in elastomeric polyurethane using the CLIP technology

The saddle and other brake parts in polyamide using the SLS technology
Using our Laser Cutting service:
The crank in aluminum using our CO2 laser cutter

The handle covers in leather using our CO2 laser cutter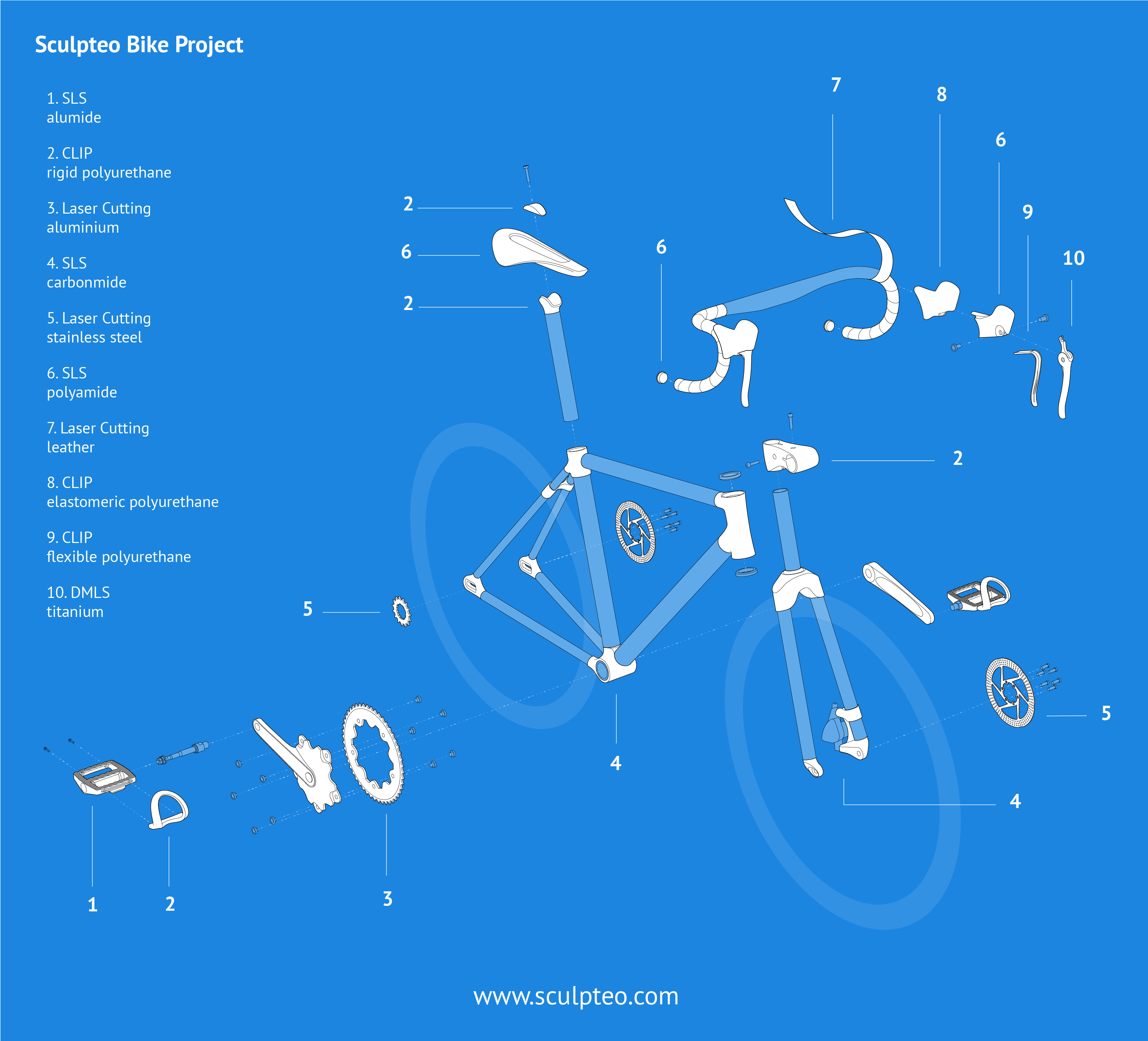 Follow the Sculpteo Bike Project, from its Design to its 1000km trip across the US
All the Sculpteo Bike Media