Our Design Guidelines for 3D Printing
HOW TO MAKE A PERFECT 3D MODEL FOR 3D PRINTING
LEARN HOW TO MASTER THE CREATION OF READY-TO-PRINT 3D FILES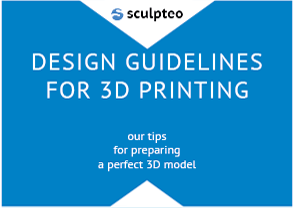 Design Guidelines for 3D Printing
Taking a design from screen into being can be a complicated process, but it doesn't have to be!
With our eBook Design Guidelines for 3D Printing, you have all of the information you could need when it comes to designing a model for 3D printing. With the help of our in-house design team and our production gurus, this eBook covers everything from design best practices to Sculpteo's online repair tools to the physical limitations of the printing process.
Each of Sculpteo's 7 materials are covered individually, with an at-a-glance style reference for you or your company's 3D designers. With that information, you can quickly account for important design factors such as minimum clearances, file size and material strength as you choose the optimal material for your project.
We've also included two 'Bonus' pages which you'll want to keep by your side if you're planning on uploading a file to Sculpteo or completing an FDM print. These bonus pages are a sort of checklist which will ensure that your model is ready for a flawless upload.
If you have any questions about manufacturing your project through the help of 3D printing, feel free to contact us - we'll be sure to get back to you with all the help you could ever need.
Otherwise, happy reading from the Sculpteo team, and be sure to check out our other eBooks as well.