How to boost your 3D printing education? Part 2 - Software and Computer Engineering
How to boost your 3D printing education? -­ Part 2
Software and Computer Engineering Studies to Work in the 3D Printing Industry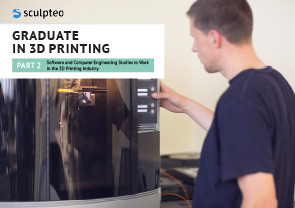 Software and Computer Engineering Studies to Work in the 3D Printing Industry
The 3D printing industry is composed of companies with diverse specialities; gone are the days when 3D printing companies only manufactured 3D printers. Today any company willing to dive into this new technology expects to hire employees with foundational qualifications. No matter what your background is, you can be sure there's a location for you to learn the skills needed to join this diverse industry. Our series of guides will help prepare you to enter the 3D printing eco-system no matter what your background is.
With the success of our first edition of this series we have now gathered 37 courses specifically dedicated to future engineers interested in developing and creating software for 3D visualization, conception and optimization for 3D printing.
Lately, there has been a lot of innovation in 3D software created for 3D printing, along with platforms to store 3D files and tools for repairing 3D models. To develop your knowledge in these areas, our free PDF will provide you with the best courses categorized by geographical location.
Here is a summary of what you can expect to learn from our guide:
our methodology to classify the best 3D printing courses

some definitions to quickly learn the most basic notions you'll need to read through the PDF

the best programs in Europe and in the United States
Now is the best time to expand your 3D printing education and this guide will make sure you start strong. Download our guide today if you're ready to start your career in the 3D printing industry.