How to boost your 3D printing education? Part 2 - Software and Computer Engineering
How to boost your 3D printing education? -­ Part 2
Software and Computer Engineering Studies to Work in the 3D Printing Industry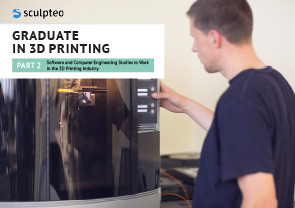 Working in the 3D Printing Industry
The 3D printing industry is composed of companies with diverse specialties; gone are the days when 3D printing companies only manufactured 3D printers. Today any company willing to dive into this new technology expects to hire employees with initial qualifications. No matter what your background is, you can be sure there's a location for you to learn the skills needed to join this industry.
To work in this field, you need to develop your skills and find the right courses for it. You can follow many different paths. STEM (Science technology engineering and mathematics) students tend to work more and more for the 3D printing field. You can go in a design school, or follow a scientific program. Our series of guides will help prepare you to enter the 3D printing eco-system no matter what your background is.
With this ebook, we'll give you the informations that you need to find your software and computer engineering studies.
Why are 3D Software so Important for 3D Printing?
CAD software and 3D modeling software are key elements in the additive manufacturing industry. They are the tools allowing you to create 3D printable parts. These parts are 3D designed and printed, thanks to these software. They are the link of creation between the printers and the 3D printed objects. From a 3D design, you can get a real object, in the real world, with a software, 3D printers, and 3D printing materials.
There is a multitude of different software, from intuitive software to complex programs that are not accessible without some hands-on learning. Some of them are more efficient for 3D sculpting, 3D modeling or 3D rendering.
3D Printing Education: Software and Computer Engineering Studies
Among all the different jobs you could do in the additive manufacturing industry, you could be 3D designer or software engineer. In this ebook, you'll find all the schools and universities with interesting lesson plans for you, if you're willing to follow software and computer engineering studies. Hopefully, this guide will help you in your professional development to work in the additive manufacturing industry.
With the success of our first edition of this series we have now gathered 37 courses allowing students to become future engineers interested in developing and creating software for 3D visualization, conception and optimization for 3D printing.
Lately, there has been a lot of innovation in 3D software created for 3D printing, along with platforms to store 3D files and tools for repairing 3D models. To develop your knowledge in these areas, our free PDF will provide you with the best courses categorized by geographical location.
Here is a summary of what you can expect to learn from our guide:
our methodology to classify the best 3D printing courses

some definitions to quickly learn the most basic notions you'll need to read through the PDF

the best educational programs in Europe

the best educational programs in the United States
We hope that you will find the course fitting your needs and your wishes among all of these educational programs and lesson plans. Now is the best time to expand your 3D printing education and this guide will make sure you start strong.
Download our guide today if you're ready to start your career in the 3D printing industry.