Boost your 3D printing education with the best courses
How to boost your 3D printing education? - Part 3
Design studies to work in the 3D printing industry - Industrial Design and 3D Modeling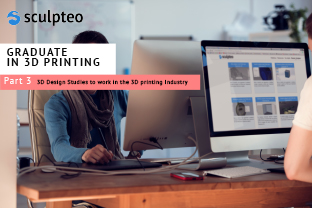 Design studies to work in the 3D printing industry - Industrial Design and 3D Modeling
3D printing technology is going to be the mean of production at the core of the next industrial revolution. This new tool implies disruptive new ways of thinking the product conception. Mastering the constraints of 3D modeling will be key to develop new products and designs adapted to this manufacturing process. From recruiters in big companies to entrepreneurs who create prototypes or launch a new product, they are all looking for people able to create the 3D model to materialize their ideas.
So how can you prepare yourself to have adapted skills for these job opportunities ? It's what we tried to figure out by gathering together these 37 design schools focused on 3D Modeling.
For Designers willing to work in Industrial Design, Product Design or 3D Design, we've categorized the best 3D Design programs in the world by geographical location. Inside this PDF, you'll find:
Some definitions to gain a rapid understanding of the different programs

The best 3D printing courses in Europe and the US

Our tutorial library to learn the most used CAD software
Passionated about 3D printing but not into Design studies? Don't worry. This e-book is the third of a series about the best way to achieve a solid 3D printing education. You can find our first e-book on Research in Materials and Process here and our second e-book on Research in Software and computer engineering here.