Graduate In 3D Printing by Sculpteo : The guide for your 3D printing training course
Discover the best courses and places to learn about additive manufacturing and work in the 3D printing industry.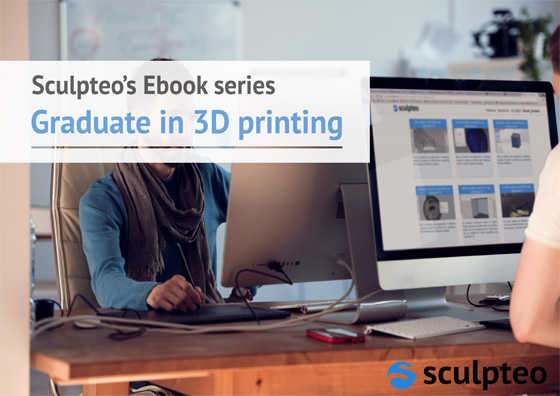 What is the Graduate in 3D printing series by Sculpteo ?
With a raise of 65% in job offers last year, the 3D printing industry is blooming. Composed of companies with diverse focuses, this industry is seeking for highly specialized and diversified profiles. But, how can you learn the right skills to work in this industry?
It's the purpose of our Graduate in 3D printing series. Through these 4 eBooks you will find more than 180 courses and resources to learn 3D printing whether you're looking to enroll for an online training or to find what your next university could be.
Each eBook focuses on a specific set of skills, making it extremly intuitive to find the training that fits you. In this edition, you'll find our four "Graduate in 3D Printing" eBooks sorted by these following categories:
Part 1 - Research in Materials and Process
Part 2 - Software and Computer Engineering Studies
Part 3 - 3D Design Studies
Part 4 - Improve your 3D printing skills on your own
Every volume contains an overview of the available classes in this domain. The available information helps understanding how you can specialize yourself in the development of 3D printing materials, CAD software, 3D image rendering, 3D modeling and much more!
If you are more a learn-by-yourself kind of person, the part 4 will be a real toolbox to better understand the 3D printing ecosystem and get familiar with this technology with self-training and events.
We hope this Graduate in 3D printing series will help you make informed choices in your studies and help you enter this industry.
Happy study!