4 Areas Where 3D Printing Is Unstoppable
18 REAL LIFE CASES WHERE 3D PRINTING MAKES THE DIFFERENCE
4 areas where 3D Printing is unstoppable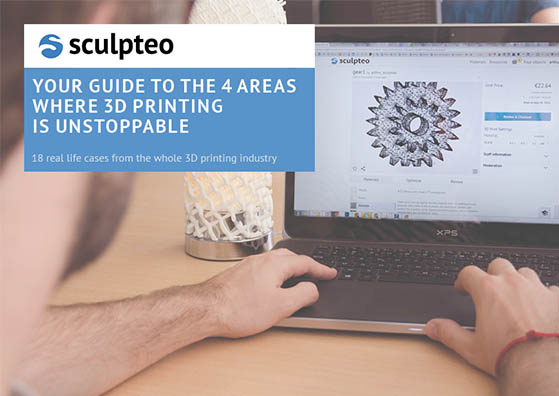 It's not a secret that 3D printing is better than traditional manufacturing for specific tasks. Although both 3D printing and injection molding are useful in their own individual way, there are some problems that only 3D printing can solve. Do you know the categories of 3D Printing that are unbeatable by traditional manufacturing?
If you do not know these categories in detail, now is the time to learn about them! All you have to do is fill out the information above and you will receive the newest ebook created specifically to show you how experts like:
DARPA (U.S. Defense)

Altair (Product Engineering)

Airbus (Aircraft Manufacturer)
And entrepreneurs like:
AudioQuest

SOLS

Invisalign

Normal
use 3D Printing to make objects that would be impossible with traditional manufacturing.
The most attractive feature of 3D printing is the ability to create shapes and objects that cannot be achieved otherwise. We have compiled 18 examples from the companies above (and more) to break down the 4 categories where 3D printing is your only option for production. The 4 categories are:
complex geometries

mass customization

integrated assembly

engineering redesign
After reading our 18 cases, you will have a better understanding of what can be achieved with 3D printing. And not only that, you'll also see how these categories are shaping innovation and modernizing our manufacturing process. You will also briefly see examples of final products and limited series production.
If you are ready to learn more about the areas where 3D printing is an unstoppable competitor to traditional manufacturing fill out the information above and receive your copy of our ebook today.