S235 Steel for Laser Cutting and Laser Engraving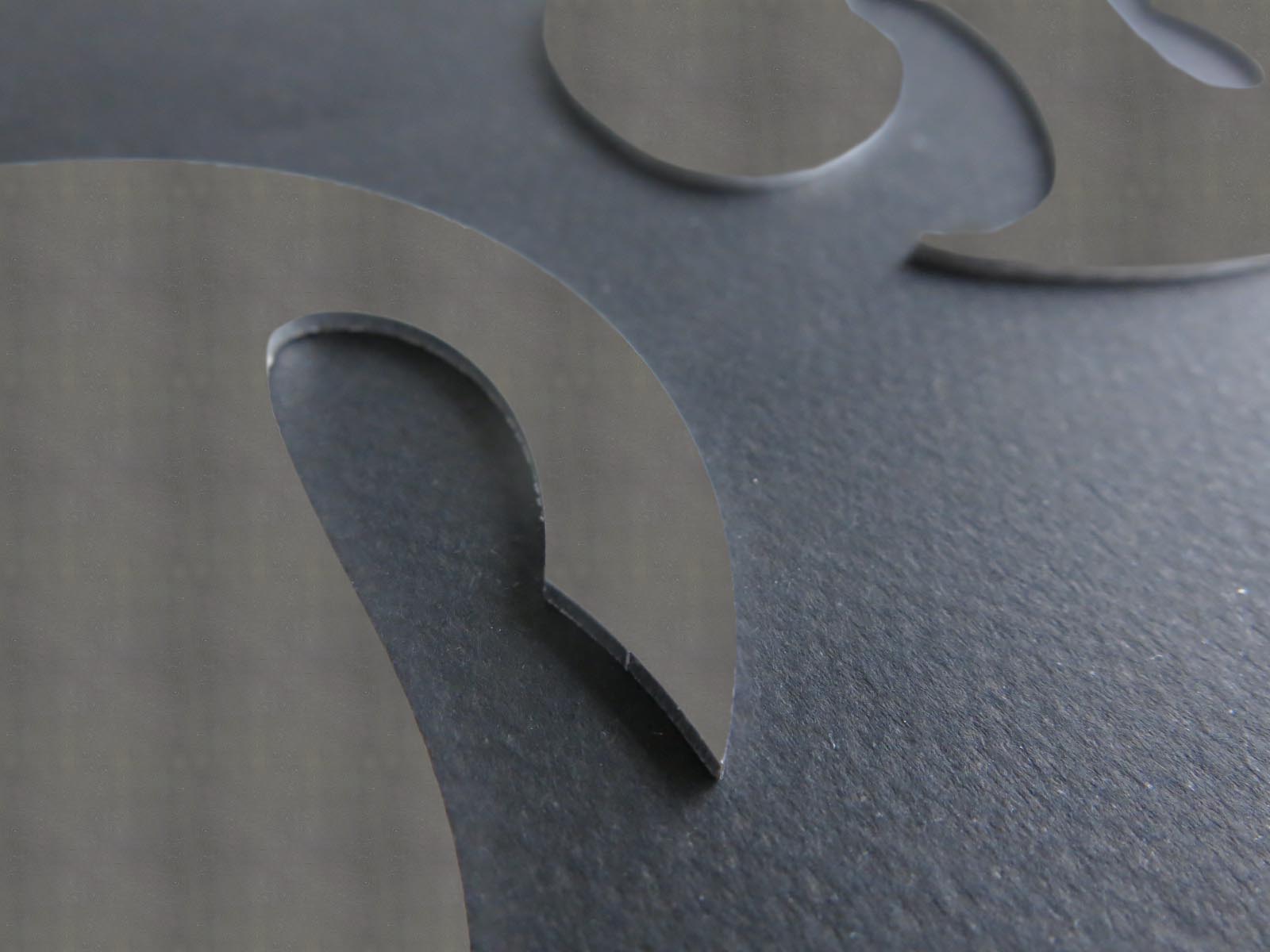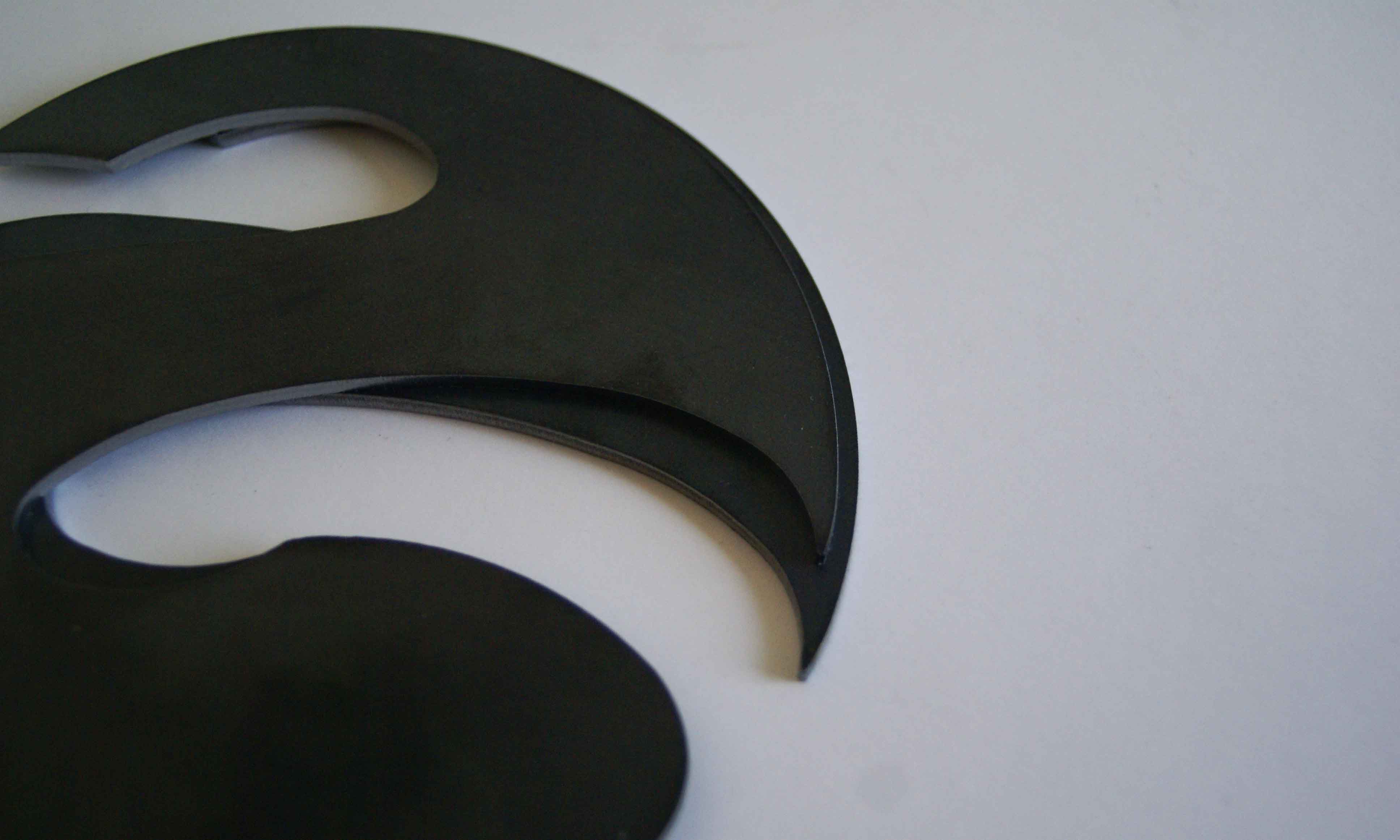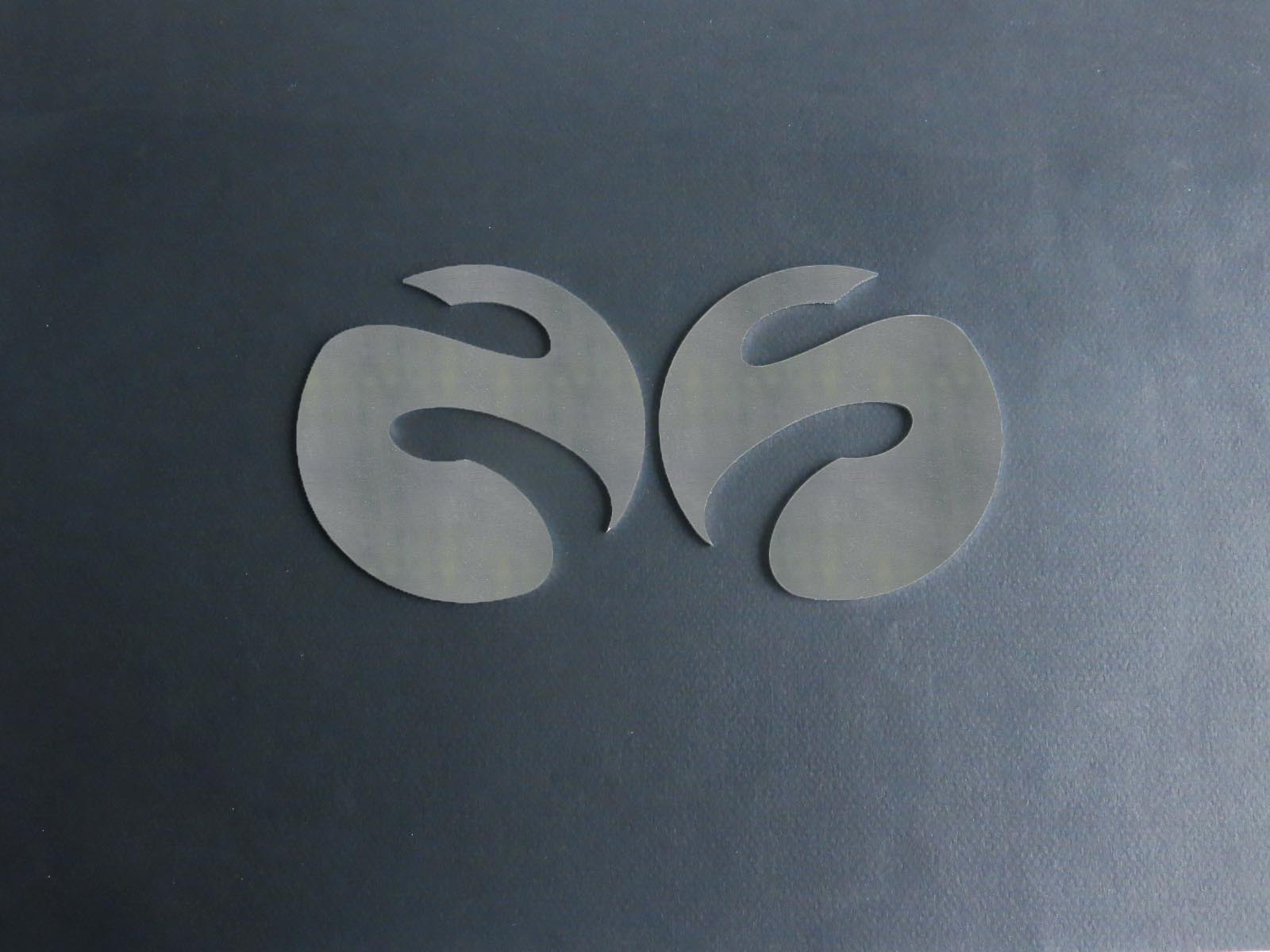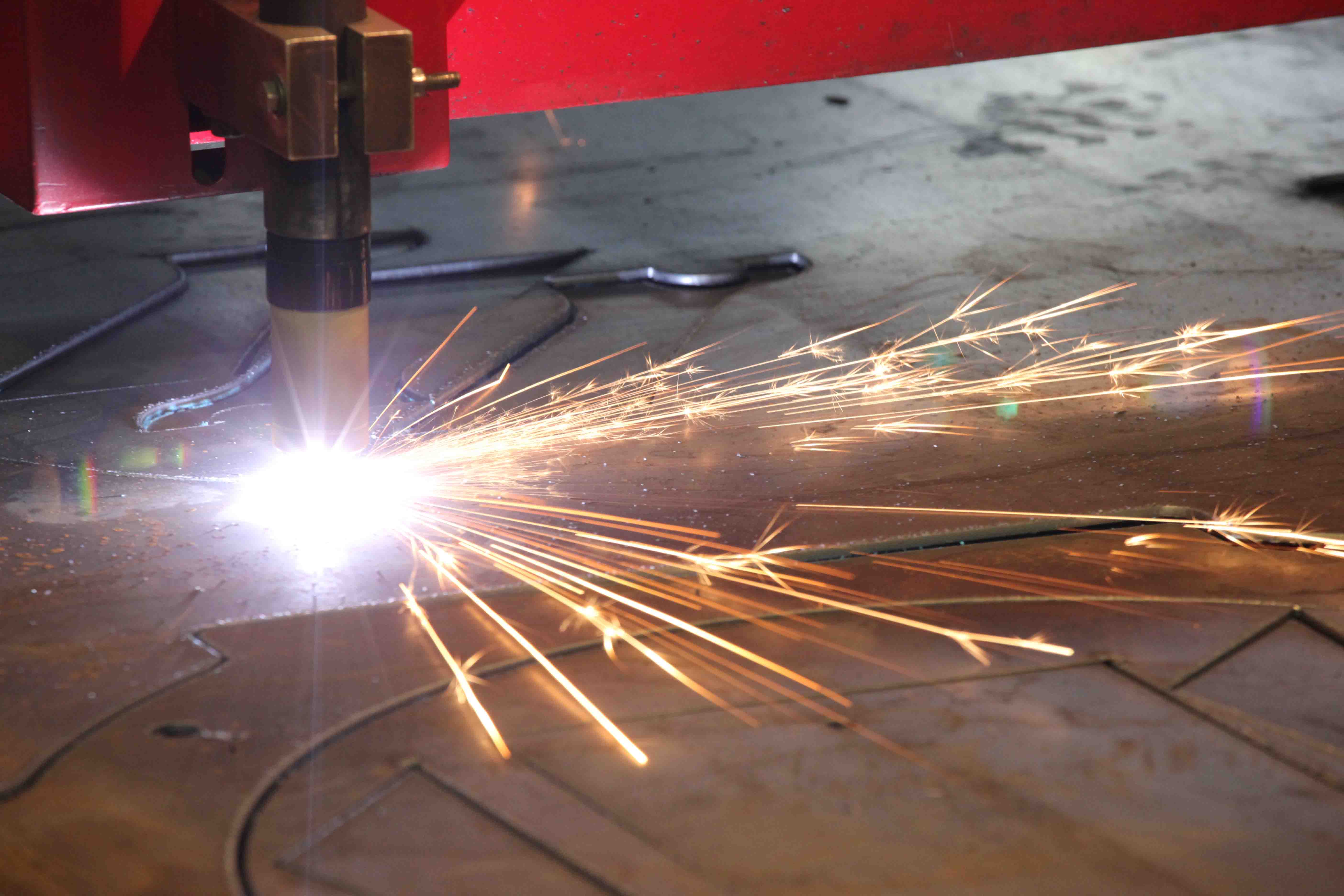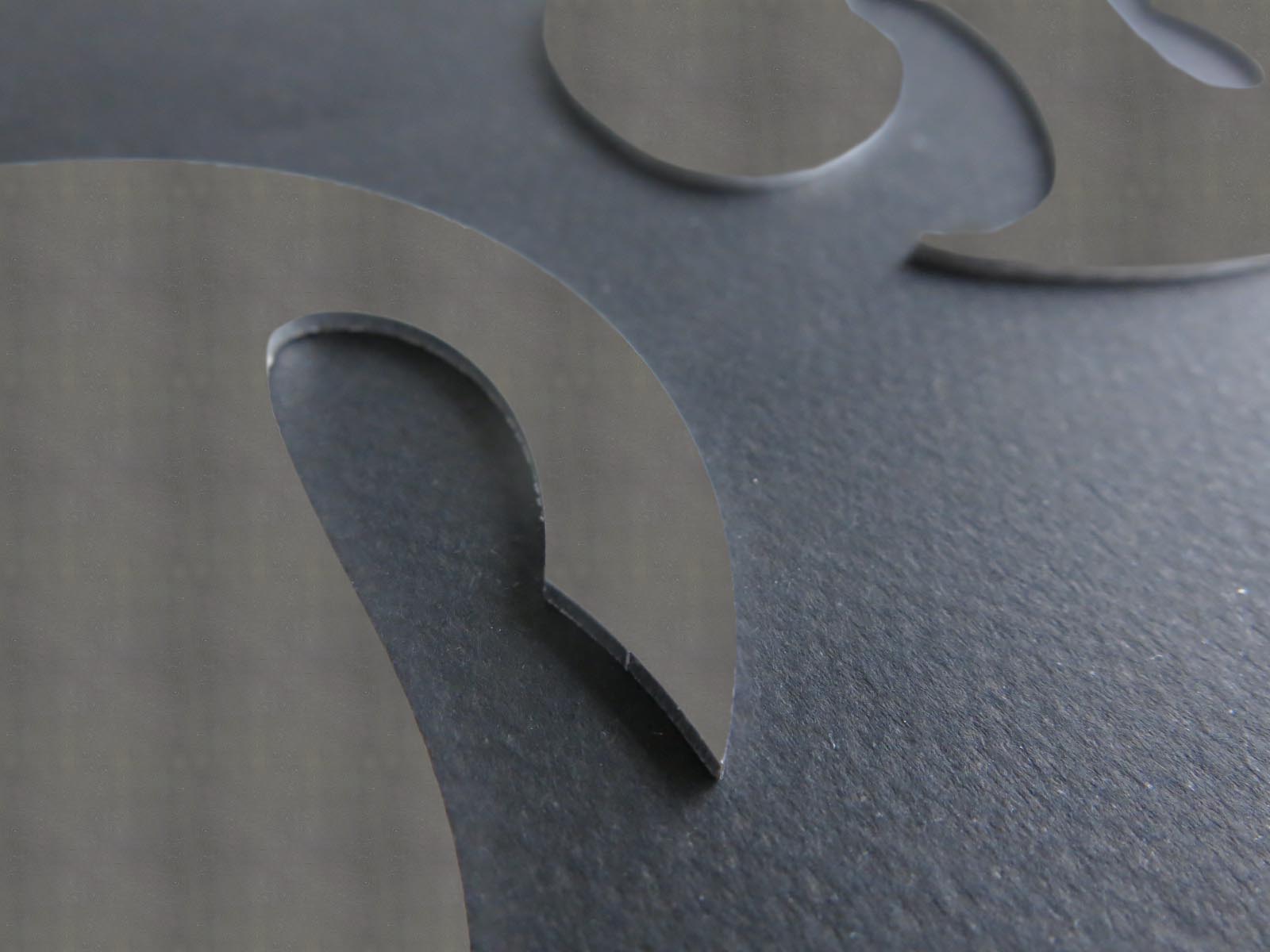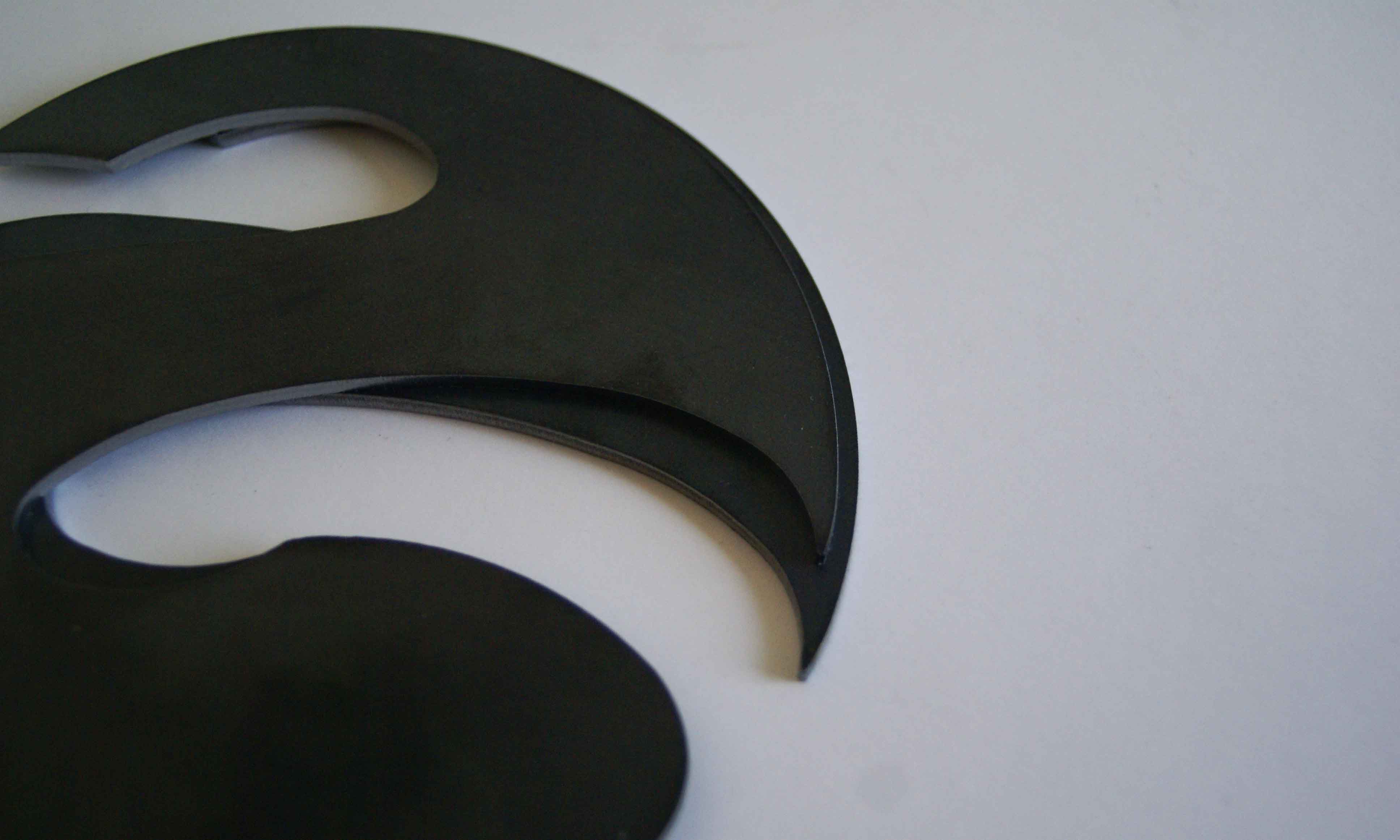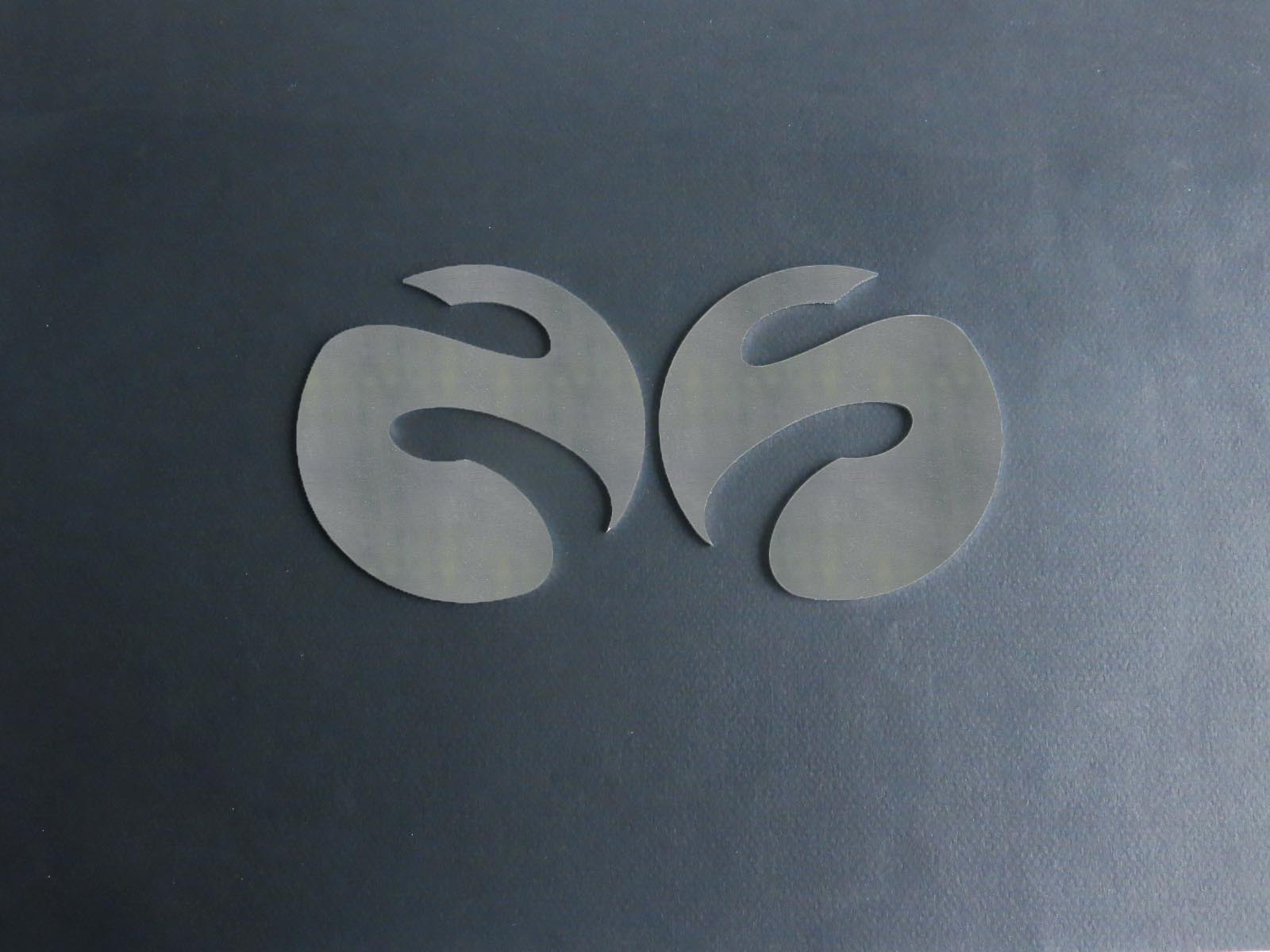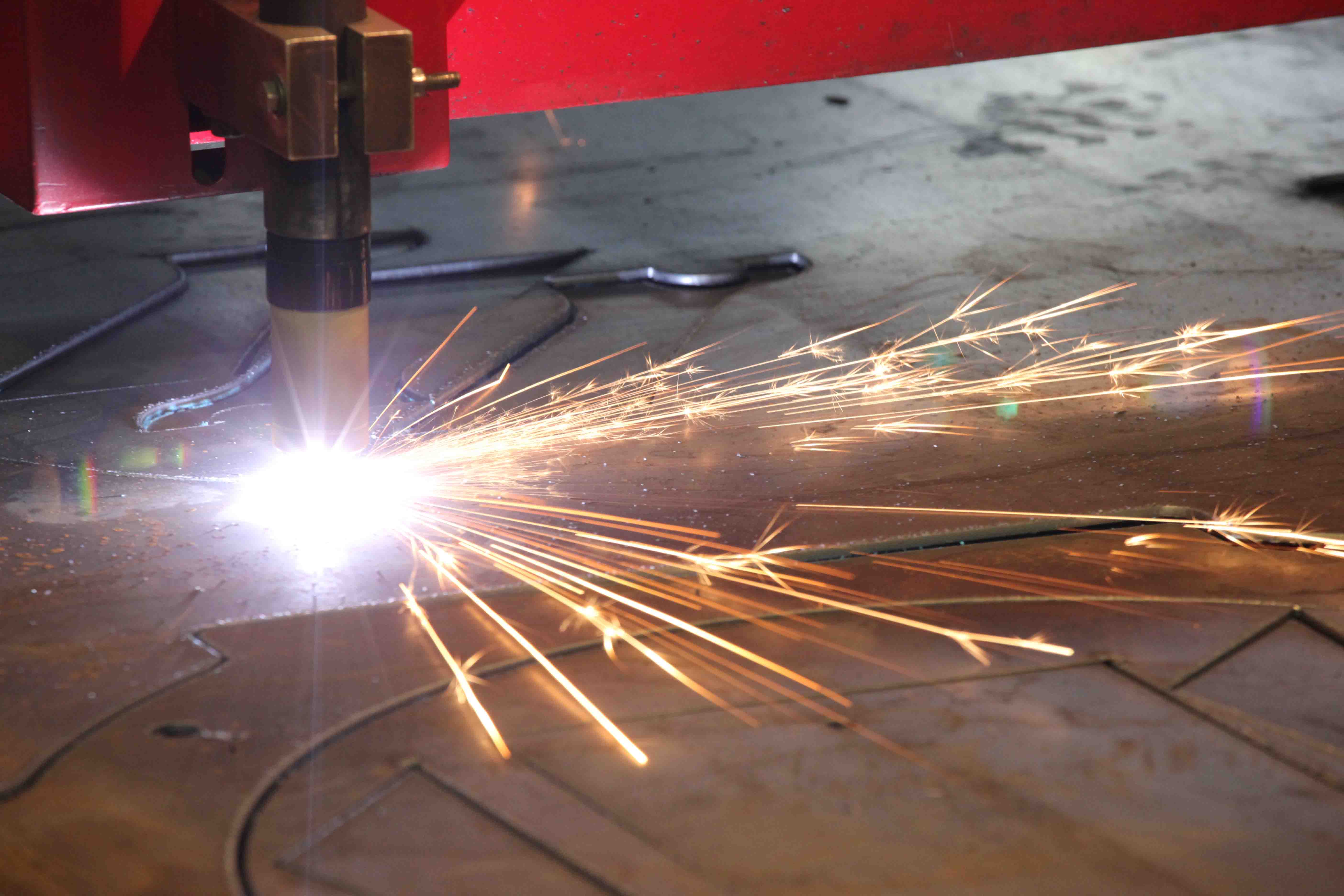 Steel
Overview
Here you will find all the information, tricks, know-how, and advice to help you laser cut and laser engrave your model in our S235 steel material. You will learn about the:
General information on our material
Our S235 Steel Material
Steel is a material composed mainly of iron and carbon . The addition of additional alloying elements (carbon, manganese, silicon, etc.) makes it possible to vary the strength of the steel. Steels with higher strength are less deformable. The alloying elements will also affect the hardness of the steel and its compatibility with welding and galvanizing. In the case of S235 steel, the alloying elements are carbon (0.19 to 0.23%), manganese (1.5% maximum), phosphorus (0.045% maximum) and sulfur (0.045% maximum).

According to the European standard classification, EN 10027-1-2, S235 steel is a non-alloy steel of general use . The letter S designates structural steels; we also talk about steel construction. The number 235 indicates the yield strength of the material, in mega pascals (MPa).
Processing Times and Pricing for Laser Cutting and Laser Engraving
The price of manufacturing your design is calculated automatically the moment it is placed online. As you modify your object and utilize our optimization tools, you will note that the price changes automatically. The pricing is based on a series of factors, including: quantity of material used, labor, and machine manufacturing time - to name a few.
Laser cutting has a quicker manufacturing time when compared to laser engraving. Your object is estimated to arrive in 4-7 business days. Engraving and particularly large objects can extend the processing time by 1-2 days on average. The estimated shipping time is also calculated automatically as the object is uploaded. An additional delay can ensue depending on the availability of some colors and thicknesses. More information can be found in the section about colors and sizing.
Delivery time should be added to processing time and depends on the delivery option you choose.
Laser cutting technique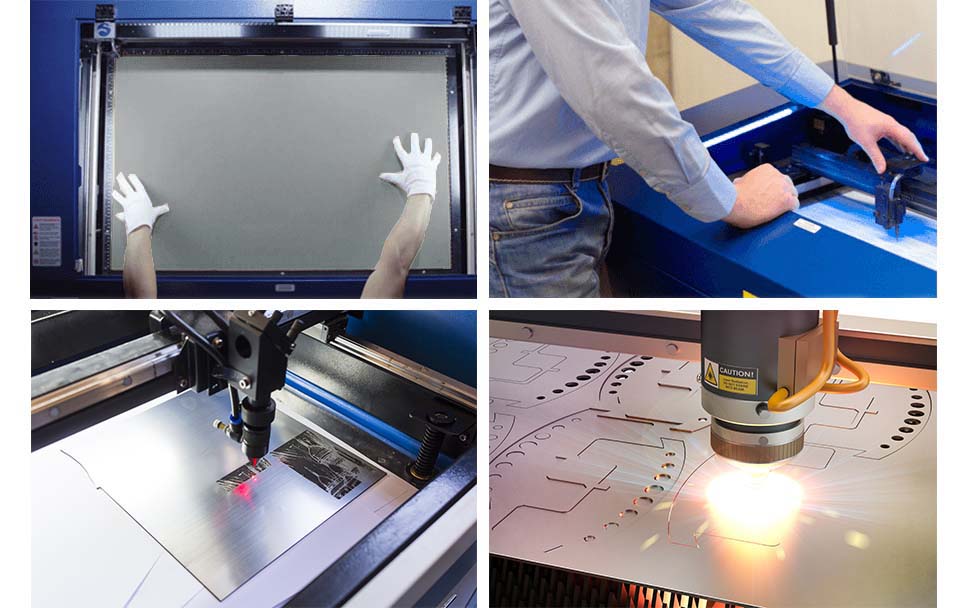 Laser Cutting is a digital subtractive fabrication technique that consists of cutting or engraving a material by means of a laser. Laser Cutting can be used on a number of materials such as plastic, wood, cardboard, metals, etc. The process involves cutting material using a powerful and highly accurate laser that focuses on a small area of the material. The high power density results in rapid heating, melting and partial or complete vaporizing of the material. Usually, a computer directs the high-power laser at the material and traces the path.
Laser Engraving Techniques
Laser Engraving (or Laser Etching) is a subtractive manufacturing method, that uses a laser beam to change the surface of an object. On metal, this process is not meant to be aesthetic: the design will be roughly engraved. It's typically used for serial numbers, references, or marks for later operations. To do so, the laser creates high heat that will vaporize the matter, thus exposing cavities that will form the final image. This method is quick, as the material is removed with each pulse of the laser. It can be use on almost any kind of metal, plastic, wood, leather or glass surface.
Uses and Maintenance
S235 steel offers many mechanical benefits. The carbon content determines the quality: hardness, weldability, elasticity.
S235 steel allows excellent conformation and excellent weldability . On the other hand, it has a poor corrosion durability (it is not stainless steel)
The European standard designates the letter S for structural steels .

Steel is at the origin of a large number of products developed by human industry. It reinforces foundations for construction , serves as a chassis, bodywork, engine parts in the automotive sector (steel accounts for 55% to 70% of the weight of a car), serves for food preservation, serves for integrated electronic circuit supports. In the medical sector, steel is inalterable and perfectly neutral in contact with human tissues . Finally, steel is a good ally in the energy sector, due to its resistance to high temperatures and high mechanical stresses.
Steel contains iron, so it is a conductive material.

Steel has the advantage of being almost entirely recyclable .
We supply the non-filmed steel material. You can wash the steel with hydrochloric acid.

Thickness
Thickness
There are multiple thickness options available through Sculpteo :

Our S235 steel is solid and resists impact. It can be folded, sawn, drilled, painted, pasted and silk screened. It is a widely used material for the manufacture of mechanical parts

Design Guidelines
Laser Precision for Laser Cutting and Laser Engraving
With Steel S235, just like for our other metals, we only do line cutting and line engraving, no surface engraving.
The other difference between laser cutting metal and laser cutting other materials is that there is no need to take the kerf into account, since the laser cutting machine calculates the laser beam trajectory so the cut object corresponds exactly to the drawn design. You can design your part exactly in the dimensions that you want your final object to have. The laser will cut and line engrave your object with extreme precision.
This has a consequence, however, which is that one line can't separate two objects. It can only separate one object from the scraps of materials that won't be used. So if you wish to laser cut two objects in metal, you can't let them share one line, they'll have to be designed as two separate objects.
With metal laser cutting, it is not possible to have two lines that crosses each other in a same file.

The other particularity of metal laser cutting is that during the cut initiation, the laser beam needs to perforate the metal sheet outside the ordered object, otherwise, it would leave fused metal projections on it. Because of that, it is necessary to leave a minimum distance between two lines of your design.
Minimum Distance Between Two Lines
| | | | |
| --- | --- | --- | --- |
| Thickness of the material | 1 mm | 2 mm | 3 mm |
| Minimum distance between two lines | 2 mm | 2 mm | 3 mm |


Maximum and Minimum Dimensions for Cuts and Engraving
| | |
| --- | --- |
| Minimum dimension | 15 x 15 mm |
| Maximum dimension | 1000 x 1000 mm |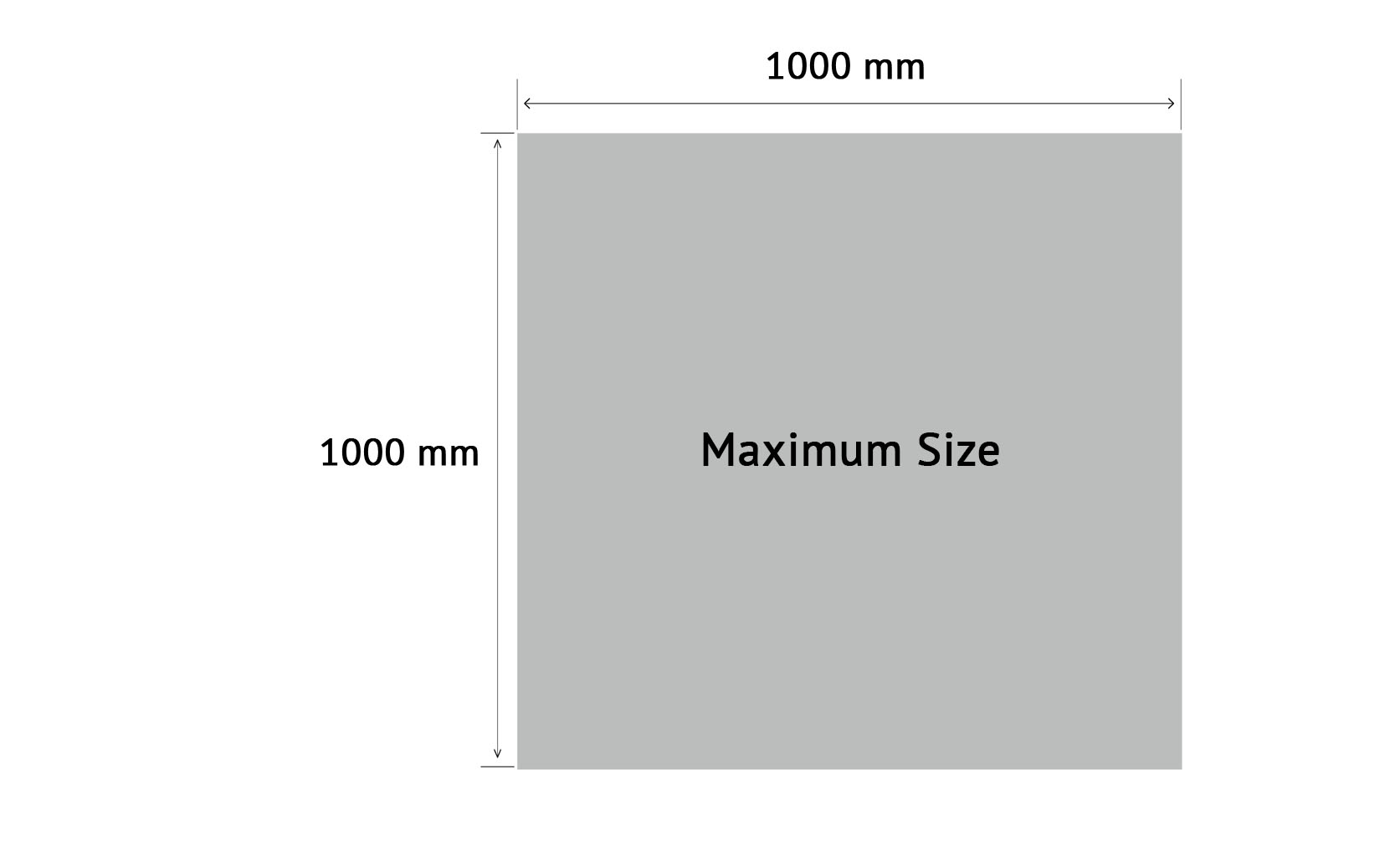 Minimal dimensions are necessary for the laser cutting, but not for engraving. Indeed, if the surface is too small, it could be lost under the cutting table's grid. If you wish to keep only the outer surface, this constraint does not apply.
Warning
Be very careful to respect the minimum size of 15x15 mm: objects of this size are all susceptible to not be delivered.
Warning
Disclaimer: due to the machine's process, some marks and scratches may occur on your object.
You can refer to our tutorial for more precision and guidance for your vector construction.
Prepare Your Texts for Laser Cutting and Laser Engraving
It is possible to cut/engrave texts. These texts must be vectorized, just like all the files sent onto the website in order to be cut or engraved.
Keep in mind, however, that laser engraving for metal is not meant to be aesthetic. Your text will be roughly engraved - it's typically used for serial numbers and references.
For laser cutting , it is key to take the minimum distance between two lines into account in order to obtain a proper laser cut.
As for full letters (A, D, O, B...) remember to create links between the inside and the outside of the letter (see below), so that the center doesn't get detached from the rest of the letter. These links are necessary if you wish to keep the outer part of the cut (we'll call it the stencil). So that your text looks best and harmonized, you can create similar links all over the text, even on letters that don't need them.
These links are really simple to create on your own, but you can also use a font like STENCIL, in which they already exist. You'll find such fonts with a simple internet search.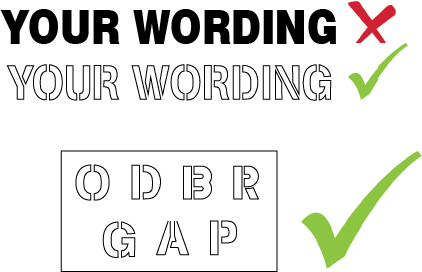 Files with multiple objects
| | |
| --- | --- |
| Files with Multiple Objects ? | Yes |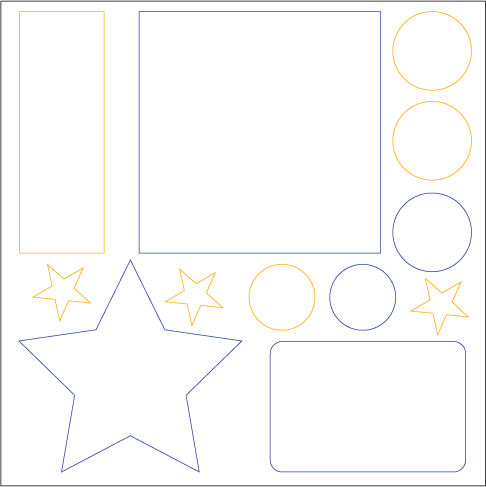 It is possible to cut or engrave several objects designed in the same vector file, by attributing one different color for each action, as indicated on the tutorial how to upload and prepare your 2D file .
However, be careful to respect a minimum distance between two lines, that is equivalent to the thickness of the material.

Contrary to cardboard, acrylic and MDF materials, with metal laser cutting, you will receive no "order frame" (on the image above, the order frame would be the black rectangle). In fact, offcuts are used to initiate the laser cut, and are scarred by fused metal projections (the laser beam will always start to cut a closed path outside of the object). For example, in the image above, if the uploaded file only contains the blue and yellow drawings, the customer will only receive the stars, the disks and the rectangles. If the file contains the outer black square, the customer will receive a square with star-shaped, rectangular and circular holes! Be very careful to keep this in mind when creating your design.

Other materials available on Sculpteo: