3D Printing Material: Ceramic
This material is currently unavailable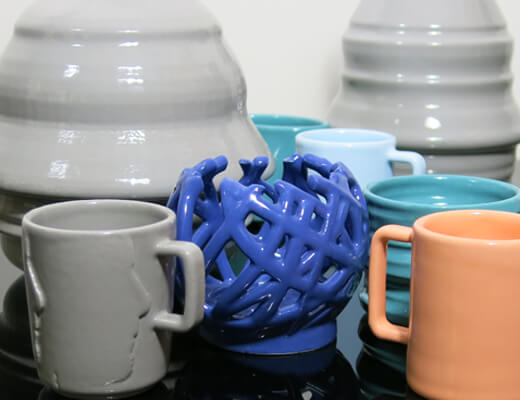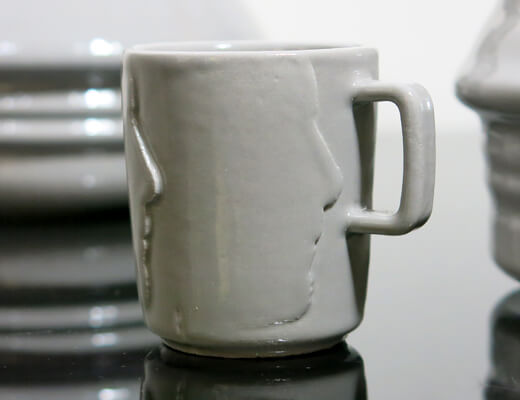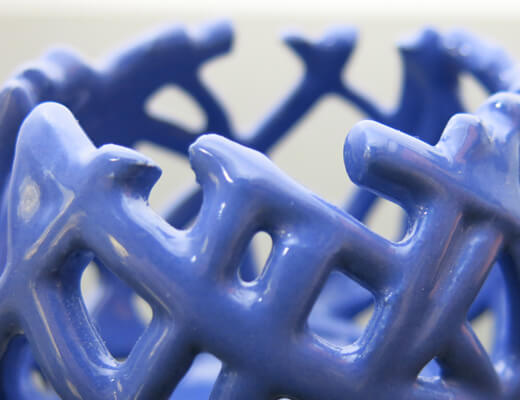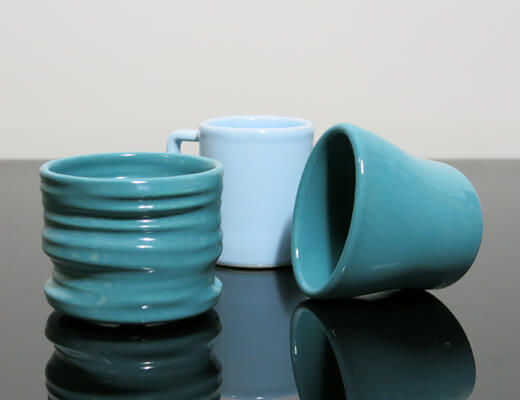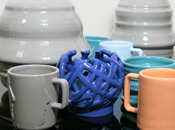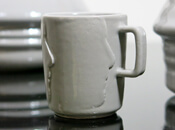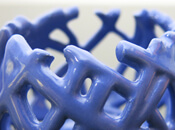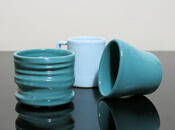 Overview
On this page you will find all of the information, hints, tips and tricks you'€™ll for a successful 3D print in ceramic. More specifically, you'll find information on:
General Information
Our ceramic material is somewhat fragile, however it is glazed and resistant to high temperatures. Ceramic objects are also food-safe. The glaze finishing is both smooth and brilliant.
Your ceramic objects are made from a fine mineral powder, comparable to plaster which is finished with a gloss.
Good to know
The base (the surface in contact with the ground) of your object will not be glazed. To minimize the unglazed area of your object, we recommend making small supports on which the object will rest.
Processing times and pricing
The printing price of your design is calculated automatically the moment it is placed online. As you modify your object (changing size, using hollowing feature, etc.) you will note that the price changes automatically. The pricing is based on a series of factors, including: volume of material used, size of object, and multiple other factors. To see your price in just a few clicks you just need to upload your file .
We estimate our ceramic prints will be shipped within 14-15 days after the order is placed. In some outstanding cases, the print can take more time to be shipped - this is usually depends on the volume of prints being processed. The exact shipping estimate will be given upon checkout.
From there the delivery time is up to you. There are multiple shipping options you can choose which vary in price depending on the urgency.
Printing techniques
At Sculpteo, we use a ZCorp 3D printer for our ceramic prints. There are a couple of steps your object will undergo in order to create your object in the real:
Model transferred to 3D printer

Before printing your object, you must create a 3D model using a program dedicated to 3D modeling. Your 3D model details are then sent to our 3D printers and arranged within the next available batch.

Object is 3D printed

The print itself is carried out layer by layer. A rolling batch leaves a uniform layer of the powder. From a printing head passes over the batch, binding the powder into a solid object. Then the printing bed is lowered, another layer of powder is placed uniformly over the bed, and the process repeats until the object is completed.

Object Removed from Batch

The objects are then carefully removed by hand from the batch. The excess powder from the print is saved for a future print.

Cleaning and gluing

The excess bits of powder which can not be removed by hand are removed with pressurized air. The object is then dunked in a bath of binding liquid, which further solidifies the object.

Glazing and Kilning

Your object is then placed in an oven to further solidify it. From there two more layers of glaze again cover the object before it is kilned for a final time at a temperature of around 1000 °C (1832 °F). From there the object is solid and ready to be shipped.
Uses and maintenance
Ceramic objects are completely waterproof and can resist extreme temperatures of up to 500 °C (932 °F). Its durability when it comes to temperature makes ceramic a great choice for personalized tableware (cups, plates, bowls, etc.) or artistic creations, but it can also be used for more scientific purposes that require an object that can withstand high temperatures.
Objects 3D printed in ceramic have the same qualities as ceramic objects created by traditional means. It is important that the object avoids intense shock, otherwise running the risk it will break.
Sculpteo'€™s finishings
The surface of our ceramic objects are always smooth and shiny. The available colors are applied through the glazing process. The available colors include: black, white, oyster blue, tangerine orange, turquoise, aquarius blue, anis green, and lemon yellow.
Do not forget
One of the surfaces of your piece will not be glazed. This is a result of our glazing method. You must thus choose one of the sides of your object that will not be glazed. This can be minimized using supports for your object.

Hard-to-reach internal walls will not be glazed.
Design Guidelines
Printing Resolution
| | |
| --- | --- |
| Layer thickness | 100µm - Keep in mind that the glazing reduces the print'€™s resolution |
Our 3D printer, the ZCorp ZPrinter 650, allows us to print with a layer precision of 100 µm (0.1 mm). Yet, the glazing process will slightly alter the object'€™s geometry as it adds 1 mm of additional thickness. Keep in mind that the kilning process can also shrink your object by up to 3% as the water is heated out of the the object.
Size Limitations
Maximum size
250 x 350 x 200 mm
and X + Y + Z ≤ 400 mm
Minimum size
6 x 6 x 6 mm
and X + Y + Z ≥ 120 mm
and minimum fill volume > 5.0%

The maximum dimension of your models is limited by the physical size of the printer itself and by the glazing process. Your objects must thus respect a minimum and maximum size on a global scale (the sum of the object'€™s three dimensions, X + Y + Z) as well as minimum fill volume to be printed in ceramic.
The minimum fill volume represents the amount of space your object must occupy within a printing batch. If your object does not take up at least 5% of the printer's total batch size it will be too small and fragile to print effectively.
Minimum Thickness & Geometry
Minimum thickness
If 120 mm ≤ X+Y+Z ≤ 200 mm : 3 mm
If 201 mm ≤ X+Y=Z ≤ 300 mm : 4 mm
If X+Y=Z > 300 mm : 6 mm
Maximum thickness
15 mm
Minimum bevel radius at corners
2 mm
Maximum length for free-hanging objects
20 mm
The walls of your object must be thick enough to withstand the printing, glazing and kilning processes. We recommend making your model with the restrictions particular to ceramic in mind for the most success with your print.
Also note that the corners which are too sharp may be cut off in the printing process. It is thus important to respect the minimum bevel radius of your object.
Sculpteo offers an online solidity check tool which highlights parts of the print that may be too thin for a print. From there you are able to tweak your design in order to create an object that is an appropriate thickness. To use it, you just need to upload your 3D file , select your material and clic on '€œVerification' tab.
Do not forget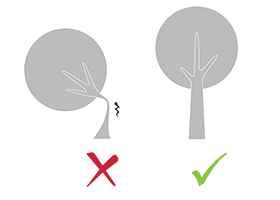 Keep in mind that our solidity check tool does not detect physical aberrations such as floating parts, unstable position, part supporting too much weight relative to its thickness, etc. Particular care must be given to the geometry of your design and the most stressed parts must be thicken.
Etching/Embossing Depths
Minimum size of details
Engraved: 3mm
Embossed: 2mm
Minimum font sizes for readable text
Engraved: 60 (21.2 mm)
Embossed: 36 (12.7 mm)
Enlargement ratio
1/1

Ceramic is not the best material choice for designs with very specific details as the glazing and kilning processes do not allow for it. In order for a detail and text to be visible we recommend following our recommended sizes at the very least.
The width of engraved details should be at least as important as their depth so that the glaze does not clog the pattern.
Enclosed and Interlocking Volumes
| | |
| --- | --- |
| Enclosed parts ? | No |
| Interlocking parts ? | No |

As the ceramic material is particularly fragile, it is not possible to include enclosed volumes without running the high risk that they will break if articulated.
Minimum Spacing and Clearances
| | |
| --- | --- |
| Minimum spacing between fixed walls | 4mm |
Our 3D prints require a minimum space between fixed walls. Glazing process can stick two walls together if there is not enough clearance between them. For that reason a minimum space of at least 4 mm between walls is required for ceramic prints. To allow glazing process, the deeper the object is the wider this space should be.
Piece Assembly
| | |
| --- | --- |
| Assembly ? | Yes |
| Minimum space between pieces | 4mm |

Ceramic 3D prints are not well adapted for piece assembly. That being said, it is possible to create objects that do not require an extreme precision for their assembly (such as a teapot and cap or a teacup and saucer). For those types of design a minimum spaces of 4 mm is required.
Hollowing
| | |
| --- | --- |
| Hollowing ? | Yes |
| Minimum hole diameter | 10 - 15 mm |

Our online hollowing optimization tool has the ability to greatly reduce the price of a print by reducing the amount of material used. Using the tool requires adding two holes to your model, which will serve as the drain for the excess powder material within the object. The minimum size of these holes is determined by our website. To use it, you just need to upload your 3D file , select your material and clic on '€œOptimization' tab.
Otherwise it is also possible to hollow your object manually in your 3D modeling software. Keep in mind that you must create two holes in order to hollow your object, the minimum hole size is 10 mm.
Multishell Files
| | |
| --- | --- |
| Files with multiple objects ? | No |

This is not possible to 3D print a 3D file containing several objects with ceramic.
Technical Specifications
To learn more about safety of materials we use for ceramic, you can refer to the following document:
×