3D Printing Material: Aluminum AISi7Mg0,6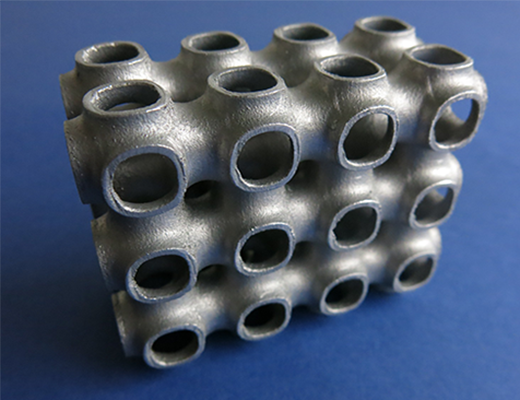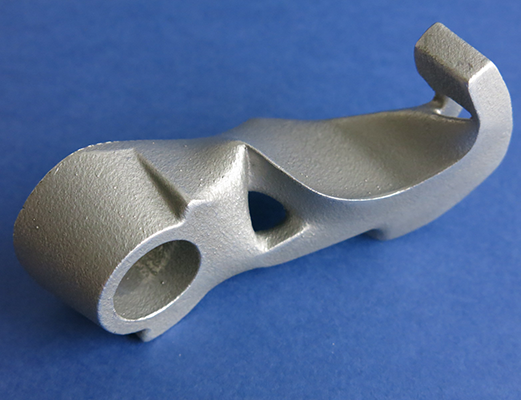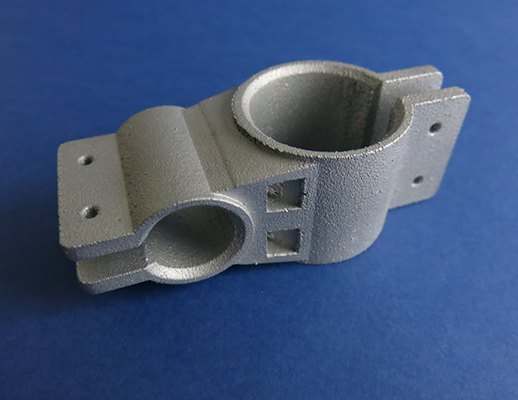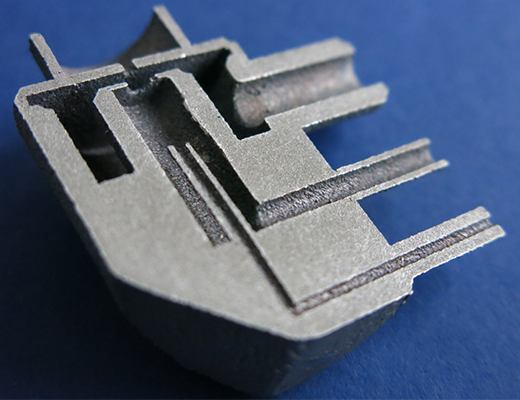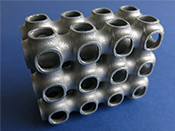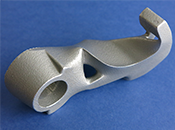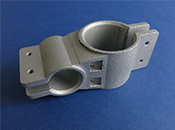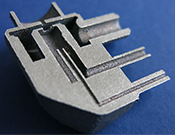 Aluminum

Raw
Overview
On this page you will find all of the information, tips and tricks for a successful 3D print in Aluminum AISi7Mg0,6. Specifically you'll find information on:
General information
Our Aluminum AISi7Mg0,6
Objects 3D printed by Sculpteo in aluminum AlSi7Mg0.6 are created from a fine metal powder composed mainly of aluminum (90%), silicon (7%) and magnesium (0.6%). This material has good mechanical properties and can be used for parts subject to high voltages. The material is durable and lightweight. Its composition makes it very suitable for molding. This alloy is commonly used in foundries for fine objects and complex geometries. The second advantage of aluminum AlSi10Mg0.6 is its very low weight.
These features make aluminum AISi7Mg0.6 particularly effective in areas where a strength/mass ratio as well as good thermal properties are required. The parts produced by SLM AISi7Mg0.6 aluminum have excellent properties and rival those produced by traditional methods.
The raw material has a grainy and rough surface. This is adequate in most cases, but if you want a special finish, such as polishing, you can contact our sales department online. The finishing process involves one of our technicians working manually on your parts to improve your 3D printed object.
Compared to the other 3D printing materials, our aluminum has the roughest surface, but you can contact our sales team for specific surface finishes.

Advantages and Main Uses
3D aluminum printing is carried out by melting or laser sintering. There are currently two technologies: DMLS and SLM. At Sculpteo, we use SLM (Selective Laser Melting), a laser melting technique. The laser beam locally brings the metal powder to its melting point, layer after layer, in order to make your object.
As aluminum is fused at a very high temperature, metal additive manufacturing requires great technical expertise for the pre-study of the thermal and mechanical effects before the 3D print, and excellent knowledge of the finishing techniques for the completion of the object.
Additive manufacturing of aluminum parts is often most successful in projects where 3D printing is fully justified because it is the best production method, compared to other manufacturing techniques (casting, machining, cutting). We note that 3D printing is often advantageous for:
Complex designs/wired geometries/non-demountable mechanisms

Speed, reduced assembly time

Short runs

Topology optimization/weight reduction

Mass customization

Remote production

To successfully manufacture your part, it is often necessary to modify the original design. At the risk of repeating ourselves, we prefer to warn you: if you want to create a part in aluminum out of curiosity or for fun, you risk being disillusioned when you realize how much effort and cost is involved in achieving it!
Agile Metal Technology
A software suite for 3D printing metal
Sculpteo is developing a new suite of custom tools to meet the challenges of 3D printing aluminim. It is a smart, online system that allows you to evaluate, optimize, and manufacture your metal-based projects. This series of tools is combined under the name of " Agile Metal Technology. " It combines artificial intelligence and interactive 3D interfaces with Sculpteo's computation engine to give you reliable answers within a few minutes.
Our aim is to offer you:
A detailed audit of the feasibility of your project




Specific feedback on your design and how it can be optimized;

Transparency on prices and the strategy for completing your item;

Control over the production method (orientation, platform strategy) for expert clients;
In the final analysis, you will save time and achieve greater success with your metal 3D printing project. You can find more details on these tools and how you can make use of them for your aluminum 3D printing on the dedicated page.
Business Case
Business Case is the first tool in the Agile Metal Technology suite. It provides an online audit of your 3D printing project. Case is an artificial intelligence developed by Sculpteo, which carries out a feasibility study using your 3D file and a series of questions. Our AI uses machine learning, derived from the millions of 3D files and manufactured items that we have processed since Sculpteo was founded in 2009.
This audit only takes a few minutes and gives you an indication of your project's strengths and weaknesses. Business Case also provides a recommendation on the material that it considers to be most suitable.
Business Case learns automatically, so don't hesitate to try it out: the more projects that it reviews, the better its recommendations will be.
3D printing techniques - Processes
Pre-process
Unlike polymer 3D printing technologies, metal additive manufacturing requires an extensive pre-process phase. This is related to the significant thermal phenomena during manufacture, as well as the need to take into consideration dimensional constraints and the degree of finishing required.
SLM printing requires supports in order to print a part correctly. The support itself is printed from the same powder as the part and will be removed after the printing phase. The supports can:
Properly attach your object to the platform

Limit the effects of shrinking during the cooling phase (warping)

Support closed angles and cantilevered geometries.

Multiple support types are possible and are used depending on the geometry of your part, its dimensions, the density of the final object, the post-process finishing steps...
The model orientation and choice of supports are essential for the success of your aluminum project. As with Sculpteo's other 3D printing technologies, these steps are semi-automated: our intelligent system suggests a solution which is then validated by a specialized pre-process engineer.
Printing technique and online prices
SLM (Selective Laser Melting) printing technology works additively by using a laser to fuse the aluminum powder. With SLS technology your piece is created layer by layer according to your 3D model. It goes through several stages before becoming a physical object, they are:
Transfer of your file to the 3D printer

You create your 3D file on software dedicated to 3D modeling and then upload your model and place an order on our site. We recommend you to upload a native CAD file (STEP, CATIA, igs...) rather than an STL or OBJ file. Your 3D model is then forwarded to one of our 3D metal printers. For Aluminium it is an SLM280 HL.
Printing of the 3D object

SLM technology uses a powerful laser to melt successive thin layers of powder. After each pass of the laser, the powder container is lowered and a new thin layer of powder is deposited on the previous one to be melted again. The process is repeated until the object is completed.
After the object is printed, it is detached from the printing platform by spark erosion and the supports are removed manually.
Cleaning and sandblasting

A light sanding is done on the piece to remove the principal traces of the support. Your object is ready to be shipped.
Online prices and delivery
3D metal printing techniques are more complex than the additive manufacturing method for plastics or resins. Although not a precious metal, aluminum powder is an expensive material and the cooling time of materials raised to their melting point means that the machinery cannot be used as frequently as in the SLS process. We take these factors into account in calculating the price.
Multiple objects and clusters
It is not possible to print a 3D file containing several objects, that's why we cannot accept files that contain clusters of multiple objects. However, don't worry, this doesn't mean you'll pay more for your multiple objects: to reduce the metal 3D printing cost, we set up a different price calculation as soon as you order two or more objects in metal.

You can also use our online tools and see our tricks and tips on how to reduce your 3D printing price.
To get more information on your metal additive manufacturing service, you can contact our qualified sales team .
Quotes and studies on request for more complex projects
Our sales team and dedicated technical team are available to study and quantify your metal additive manufacturing projects. Together we have the modeling and engineering skills for the process and finishes to be able to work with you to create a 3D model perfectly suited to your specification. We also validate with you with the economic advantage and the choice of technology compared to conventional production.
We establish the most appropriate finishing strategy for your specifications by using a wide range of machining operations:
polishing

grinding

turning

milling

drilling

threading

heat treatment

To achieve your goals, for example, dimensional or surface quality goals.
We can also print in other metals and alloys.
By combining the efficiency of our 3D tools, the intelligent Agile Metal Technology system developed by us and the skills of our engineers, we are able to offer efficient aluminum additive manufacturing at the best price.
Contact our technical sales department at: sales@sculpteo.com
Design Guidelines

Printing Resolution
| | |
| --- | --- |
| Tolerance Value | +/- 0.2mm |
Size Limitations
| | |
| --- | --- |
| Maximum Size | 325 mm x 250 mm x 250 mm (12.79 in x 9.84 in x 9.84 in) |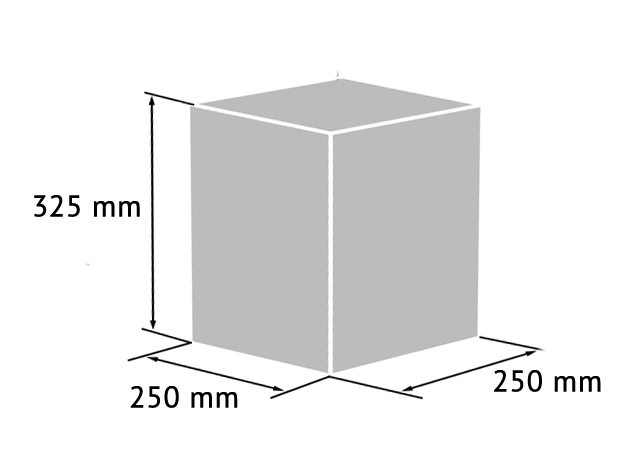 The maximum size of your models are limited by the physical size of our 3D printers - nothing can be printed larger than the printer bed.
Your object must also respect the minimum dimensions of Aluminum 3D prints (explained bellow).
Minimum Thickness & Geometry
| | |
| --- | --- |
| Minimum wall thickness | 0,5 mm |

The walls of your design must adhere to a minimum thickness of 0,5 mm in order to guarantee the structure will not break. If the walls of your model are less than 1 mm, we recommand you to thicken them or add a support structure to maintain stability.
For an object that is sure to be solid, a minimum thickness of 1 mm is recommended.
Sculpteo offers an online solidity check tool which highlights parts of the print that may be too thin for a print. From there you are able to tweak your design in order to create an object that is an appropriate thickness. To use it, you just need to upload your 3D file, select your material and click on "Verification" tab.
It is also important to keep in mind that the object is to be printed in a physical form. Thus if a thin aspect is supporting something that is too heavy for it, it may break - even though it is possible with the physics provided within the 3D printing program. We recommend adding a bit of thickness to the places that will get a lot of handling, or that support the most weight.
Do not forget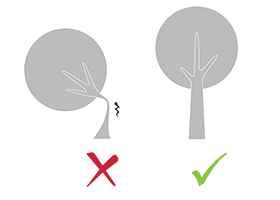 Keep in mind that our solidity check tool does not detect physical aberrations such as floating parts, unstable position, parts supporting too much weight relative to their thickness, etc. Particular care must be given to the geometry of your design and the most stressed parts must be thickened.
Etching/Embossing Depths
| | |
| --- | --- |
| Minimum size of details | 1 mm |
| Minimum size of text | 1mm |

A detail's minimum precision is mainly determined the resolution of our printers. However, during the cleaning process, a fine layer of detail can also be lost. In order for a detail and text to be visible we recommend following our recommended sizes at the very least. To ensure a better powder removal (thus a better detail precision), the width of your details must be at least as big as depth.
Enclosed and Interlocking Volumes
| | |
| --- | --- |
| Enclosed parts ? | No |
| Interlocking parts ? | No |

Hollowing

Multishell Files
| | |
| --- | --- |
| Files with multiple objects ? | No |

This is not possible to 3D print a 3D file containing several objects with Aluminum.
Multiple objects and clusters
It is not possible to print a 3D file containing several objects, that's why we cannot accept files that contain clusters of multiple objects. Though, if you wish to purchase more than one identical parts, you can select the number of parts you want to order during the checkout. The more parts you order, the lower your price per part gets.
You can also use our online tools and see our tricks and tips on how to reduce your 3D printing price.
To get more information on your metal additive manufacturing service, you can contact our qualified sales team.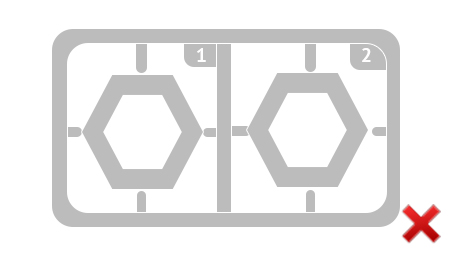 Technical Specifications
Ingredients:
Aluminum: >90%

Silicon: 7%

Magnesium: 0,6%
| Mechanical Properties | Conditions | Unit | Value |
| --- | --- | --- | --- |
| Density of laser-sintered part | EOS-Method | g/cm3 | 2,7 |
| Tensile strength | ISO 6892-1:2009 | MPa | 460 ± 20 |
| Elongation at break (XY) | ISO 6892-1:2009 | % | 9 ± 2 |
| Elongation at break (Z) | ISO 6892-1:2009 | % | 6 ± 2 |
| Melting point | DIN 53736 | °C | 630- 670 |
To learn more about aluminum technical specifications, refer to the Aluminum Datasheet.
Other materials available on Sculpteo: