No Face Figure
by
kolayamit
No Face Figure miniature 3D print model measuring 5.51 inches. Have it 3D Printed to keep a wonderful piece of art on your Table.
https://www.sculpteo.com/en/print/nofacefigure4/uoLFQsaw

3D view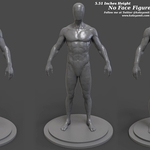 Materials

Optimize

Review
Batch Control
Available in plastic from 20 prints or more, dedicates a print tray to your production run.

Hollowing your model and adding holes for powder recovery reduces the material used.
Change settings

Customize the orientation of your design to ensure it gets 3D printed with the layers in a particular orientation. This functionality is free and available if ordering a batch or if you are an Expert User.
Change settings

Solidity Check
The material you chose has a solidity threshold of around mm.

---
Thickening
Thickening provides an automatic tool to thicken your model in fragile areas.
3D Print Dossier - FinalProof
3D Print Dossier provides a full breakdown of every aspect of your 3D Print by email, including FinalProof, Solidity Check, scale blueprints and a full quote if available.
Please enter a valid email address.

×
➨
Cutaway View
Cutaway View gives you an x-ray view of your design.

Other available production services:
$

Ships by , guaranteed

$

Ships from , save up to 30% !
Could ship by , if you choose Standard White Raw Plastic
Includes sales taxes Excludes sales taxes
Design has fine details which might break, please review its solidity
Your design is colorless, you might want to use a more robust material (such as plastics for example)
The design is too small or too thin to be hollowed
You need at least two holes for each volume that you want hollowed
Some hollowed volumes are missing holes
Hollowing is not available for this material
Thickening a multicolor design may change the texture and colors slightly.
Your 3D Print Dossier for these settings is being prepared. It will be emailed within the hour.
Your design has not set any cuts or engraves. Please set at least one path or object to be a cut or an engrave to continue.
Customized orientation is not available for this combination of material and finish. Try white or black plastic (in any finish) if a specific orientation is required.
Some designs in this group are not yet available for printing, which prevents ordering this group as a whole. You may visit your
gallery
to order each design individually.
Metal cut parts do not support surface engrave. These cut types have been removed while metal is selected.
Your design contains shapes that are not fully closed - these can not currently be laser cut in metal. See the Review tab for more details
Laser cut objects in metal need at least one fully closed cut.
3D Print Settings
---



g

cm

Optimization

---

Beta

Review

---

Please enter a valid email address.

×

➨