Solidity Check
Verification of strength is automatically activated when you click on the "Review". This functionality is made simple to use thanks to a visual code from green to red illustrating the strength of the 3D object.
The automatic tool Sculpteo strength verification allows you to observe and verify the risk areas before printing. If it's green, you can print without risk, otherwise, you should try to print in another size or a different material. This tool is dynamic, if you change the material or the size of the 3D printing, the strength test will change accordingly. This allows you to adjust the ratio of your size-strength-material.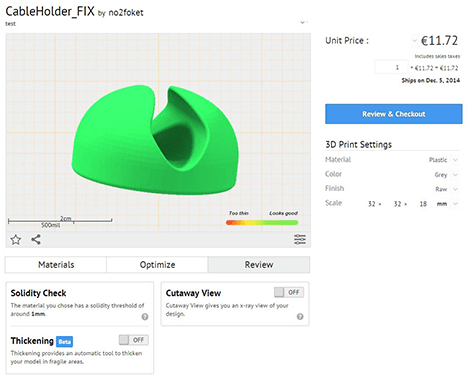 Thickening
When the material and the selected size does not allow the 3D printing have sufficient strength, functionality 'thickening' is proposed in order to thicken the parts that may break and realize printing your file without the intervention your part. To enable this feature, simply switch the button "OFF" to "ON". Our algorithms will then create a wrap around the thin areas to make them thicker. The changes should create minimal deformation and fit harmoniously on the original model. In case you feel that your 3D model has undergone too many changes, you can always disable this tool. By changing the size or printing material, it will be perhaps also print your 3D model.
The 'thickened' files with this feature can be saved to your objects by adding them to your shopping basket even if the order is not finalized. Once the objects are in your shopping basket, the thickened version file is added as a derivative of the original file, this way you keep the file systematically initially charged.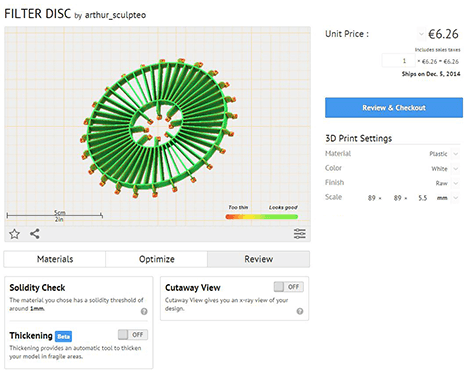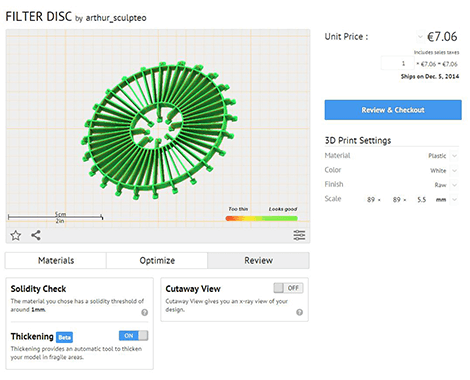 Cutaway view
The feature "Cutaway view" 'is used to view the inside of his 3D model. This offers the possibility to control two things:
Ensure that a 3D model is correctly hollowed and the position of the holes (optionally by our tool 'hollowing') are effective to allow the removal of the excess powder.

Check that there is indeed a gap between different volumes that make up a moving object
To use the section view, simply enable this feature by clicking on the "OFF" / "ON". Our algorithms do the work automatically to change the mode of the 3D viewer.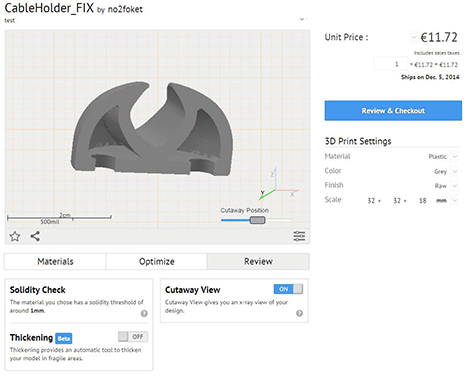 ×