Add a factory in the cloud to
your business!
Benefit from 3D Printing technology without any investment
Easy to use on your website
Fully customizable features
Hosting included
Multichannel efficient
Create your 3D printing business
for free!
Start now!
Special series
3D-printing Cloud Engine enables you to produce short series from 1 to 500 objects of everyday life products in less than 1 week. We offer you 35 different materials and our experienced 'home-made' R&D to succeed in the integration of 3D-printing into your business.
Join us on the 3rd Industrial Revolution!
Customized Products
Use our easy and efficient customization tools to provide a new experience to your customers. With 3D-printing Cloud Engine, we can produce a different object for everyone. When we are saying different, we really mean it: different size, shape, engraved or deformed models, pattern... we afford everything that could be possible in 3D and remains 3D-printable.
No more stock problems
With the 3D-printing cloud Engine, you will never say again "Sorry, this product is out of stock". All your range can be printed on demand, at any time, in any size and color for your customers. Get them 100% satisfied!
---
How does it work?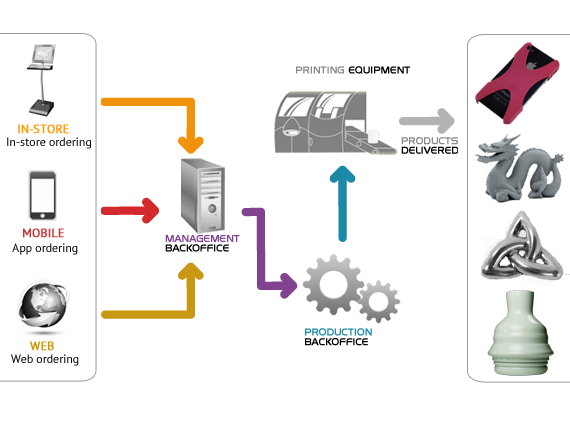 Sculpteo is an cloud based 3D-printing solution that enables you to create and manage your own on-demand manufacturing service wherever you are. List your designs, choose customization options and materials... Within 4 hours, you integrate and benefit of the amazing technology of 3D-printing!
---
Case Study #1: You are a designer and you want to sell your model on your website
You can easily embed your Sculpteo's shop into your website and grow your sales.
See our documentation for:
If you already run a shop, it's also possible to integrate only an overlay with sculpteo Content (case study #2)
See our solution live on the website of Xavier Dabrowski.
→ My people's tree
---
Case Study #2: You are a breand and you want to offer unique products based on 3D printing
You can integrate Sculpteo Cloud engine in different ways, mainly depending on if you're providing the customization experience youselves or not.
Integrating an overlay with Sculpteo content into your shop is the best solution for those who want to benefit from our customization tool and the whole sculpteo experience.
Sculpteo cloud engine can be integrated with major e-commerce platform as shopify or magento (you keep the cart and payement management)
If you want to manage yourself the cusomization tools, you can integrate sculpteo when your client has created its custom design.
See ou solution live here:
---
Case Study #3: You are a 3D model platfom and you want to offer a 3D Printing Service
If you manage a library of 3D models or a solution to create 3D models, you can add 3D printing to give your customer a richer experience.
We give a percent of the turnover on each order.
Choose between our 3 solutions of automatic upload.
We handle for you the rest.
We pay you a commission on the order every month.