Resin 3D Printing Material using PolyJet technology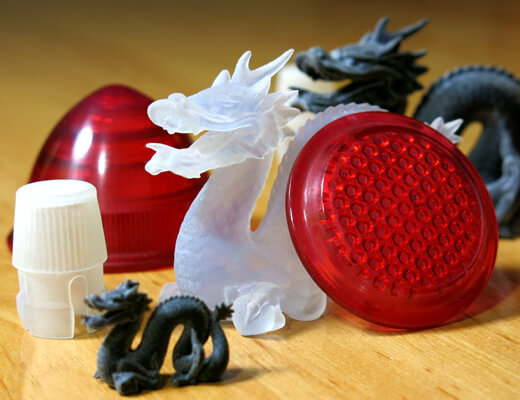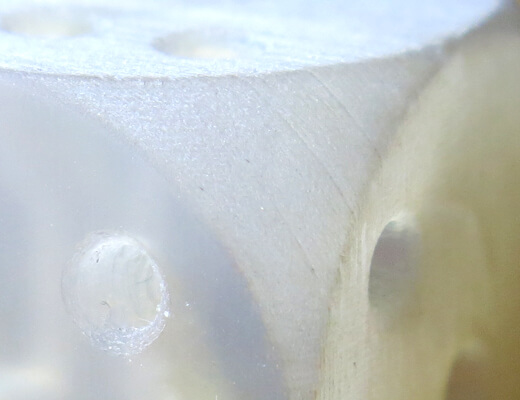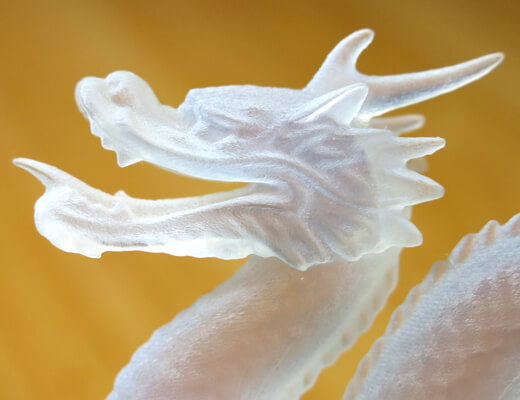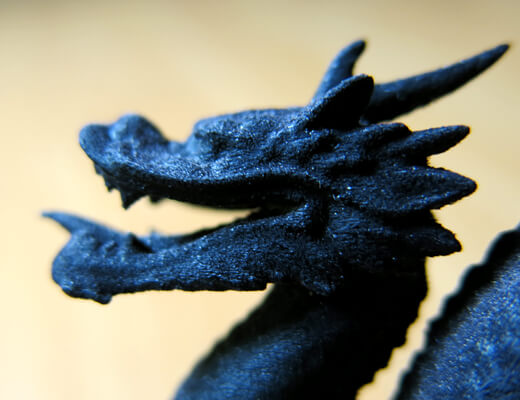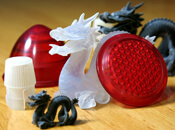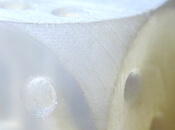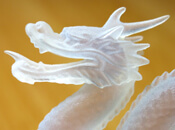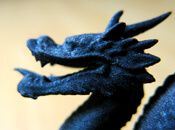 Technology Overview

What is PolyJet 3D Printing?
PolyJet 3D Printing works similarly to inkjet printing, but instead of jetting drops of ink onto paper, PolyJet 3D Printers jet layers of curable liquid photopolymer onto a build tray.

During the pre-processing, the software automatically calculates the placement of photopolymers and support material from a 3D CAD file. During the printing, the resin 3D printer jets and instantly UV-cures tiny droplets of liquid photopolymer.
Fine layers accumulate on the build tray to create several highly-detailed 3D printed products. Where overhangs or complex shapes require support, the Polyjet 3D printer jets a removable support material, named FullCore 750. The process of fine layer polymerization is repeated until the object is finished.
After the photopolymerization is completed, the batch is placed under a pressurized water jet. This allows any excess liquid or supports to be removed with a few human interactions.

The final product has a naturally smooth surface which can be polished further to create near full transparency for the clear resin. 3D printed models and parts are ready to handle and use right out after the cleaning process, there is no need for post-curing.

Polyjet 3D Printers
Polyjet 3D Printing technology was developed by the Israeli company Objet Geometries Ltd, that was merged with Stratasys in 2011. Objet Geometries owned more than 50 patents on material associated with the Polyjet polymer jetting technology. The Polyjet 3D printers that we use at Sculpteo are the Objet 30 Pro and Eden 250. In 2017, nine different resin 3D printers from Stratasys are based on the Polyjet and the Polyjet Matrix technology:
Objet 24

Objet 30

Objet 30 Pro

Objet 30 Prime

Objet Eden 260VS

Objet 260 Connex3

Objet 1000Plus

Connex3

Stratasys J750
Eden and Connex resin 3D printers are able to handle different grade of resins and colors in the same 3D printed object. They are using the Polyjet Matrix technology which jets multiple model materials simultaneously and creates composite Digital Materials on the fly.
Polyjet Benefits
The Polyjet 3D printing process is highly beneficial for those who need to produce accurate parts for prototyping or low-volume production. It also allows to create complicated and highly detailed designs that would not be possible with any other technology, due to the limitations of the traditional manufacturing processes.
PolyJet is used by automotive, electronics, consumer goods, medical development, and clothing manufacturers, as well as for creating 3D models for use in movies such as Coraline.

Polyjet 3D Printing materials
PolyJet technology 3D prints in a wide variety of materials, in order to create for instance ABS-like prototypes, ergonomic tooling, biocompatible surgical guides or realistic prototypes that closely resemble finished products.
All Polyjet 3D printing materials are photopolymers, which is a different class than thermoplastics or elastomers used commonly in many industries, but they can simulate those materials visually, thermally and mechanically. Polyjet photopolymers are all REACH-compliant and all environmentally safe.
Models are precisely printed in layers as fine as 25 or 16 microns for smooth surfaces and complex geometries. Material properties range from rubber to rigid, transparent to opaque, neutral to vibrantly colored and standard to biocompatible.
On our online 3D printing service, you can now order the two most well-known materials produced with Polyjet Resin 3D printers:
VeroWhite Resin: an ABS-like opaque rigid resin

VeroClear Resin: a translucent rigid resin
We also provide other resins on-demand.
If you're interested in bigger sizes, other resins or specific finishes, please contact our sales department. We will provide you a quote and a complete study for a wide range of other 3D printing resins, such as:
TangoBlack Resin: a rubber-like black resin

Simulated Polypropylene: for living hinges
We also offer online 3D printing of Elastomeric, Rigid and Flexible Polyurethane, but using another 3D printing resin technology: CLIP (Continuous Liquid Interface Production).
Polyjet Applications
PolyJet technology 3D prints in a wide variety of materials, in order to create for instance ABS-like prototypes, ergonomic tooling, biocompatible surgical guides or realistic prototypes that closely resemble finished products.
Most applications of 3D printing process are covered by the Polyjet technology:
Prototyping of Concept Models

Prototyping for functional testing

Production of end-use parts

Production of tools like jigs and fixtures

Production of patterns and molds for tooling

Since Polyjet 3D printing materials are able to create highly-detailed and smooth parts, it is commonly used for presentation and display models, form and fit prototypes and patterns. While testing results will differ from those of production plastics, these materials can also be used to simulate products in functional testing for early performance evaluations.

Polyjet Case Study

For a full case study about how 3D printing in general and Polyjet in particular are revolutionizing consumer product development or the fashion industry, read our blog articles:



Our resin 3D printing service
On-demand Polyjet 3D Printing Service
Sculpteo offers you the best online 3D printing service for your Polyjet parts. Thanks to our expertise, you can order resin objects in a plethora of coloring options. The available colors can obtained through a couple different processes and you will obtain a quote instantly.
The objects are printed directly in white or translucide depending on the options chosen at checkout. The pieces exit the printer monochromatic but can undergo post-process coloring.
The opaque colors available are: white, black, thalassa blue, intense red, marron glacé, valley green, orange, light yellow, pearl grey, neon yellow, neon pink, neon orange.
For prints in different colors and finishings in translucide resin, you must fill out a request with our sales team. It's an easy process, just fill out a contact form.
At-home finishings
PolyJet resin material is adapted to at-home post treatment. Thus, you can easily make your own finishes on your object: polishing, dyeing, painting, varnishing, and more.
For at-home finishing and polishing techniques, we invite you to take a look at our tutorial on resin polishing.
Our materials
×
Other materials available on Sculpteo: