3D Printing Material: Metal (binder jetting) Steel / Bronze 420SS/BR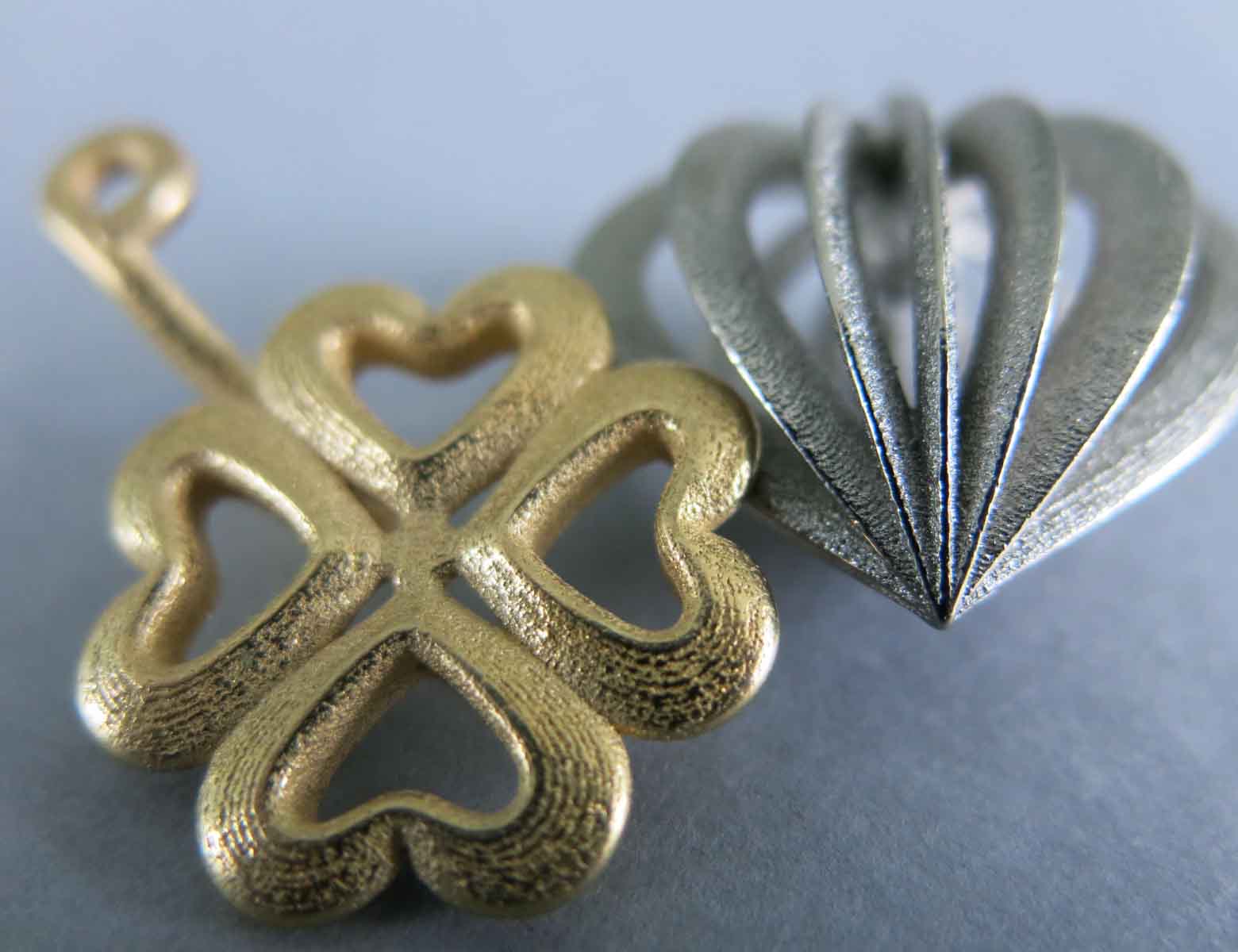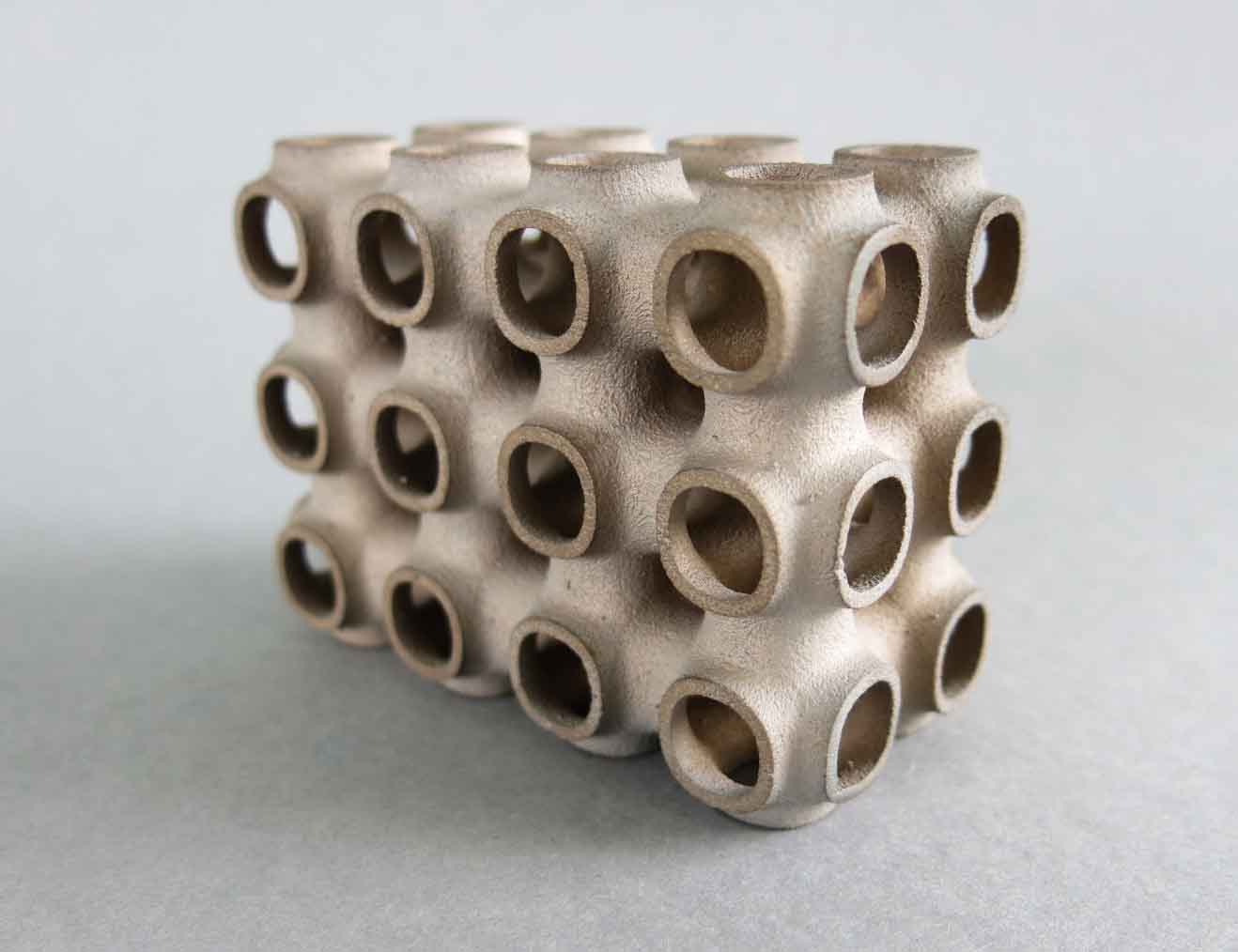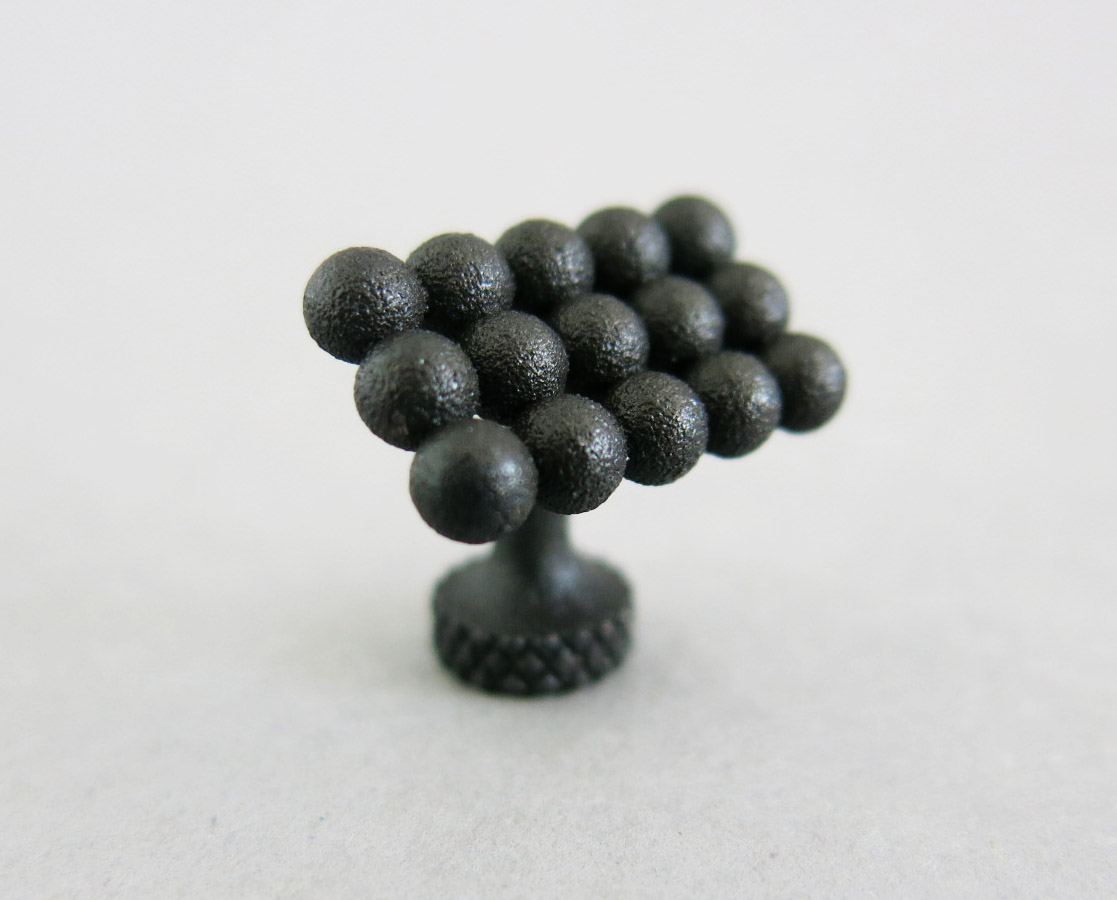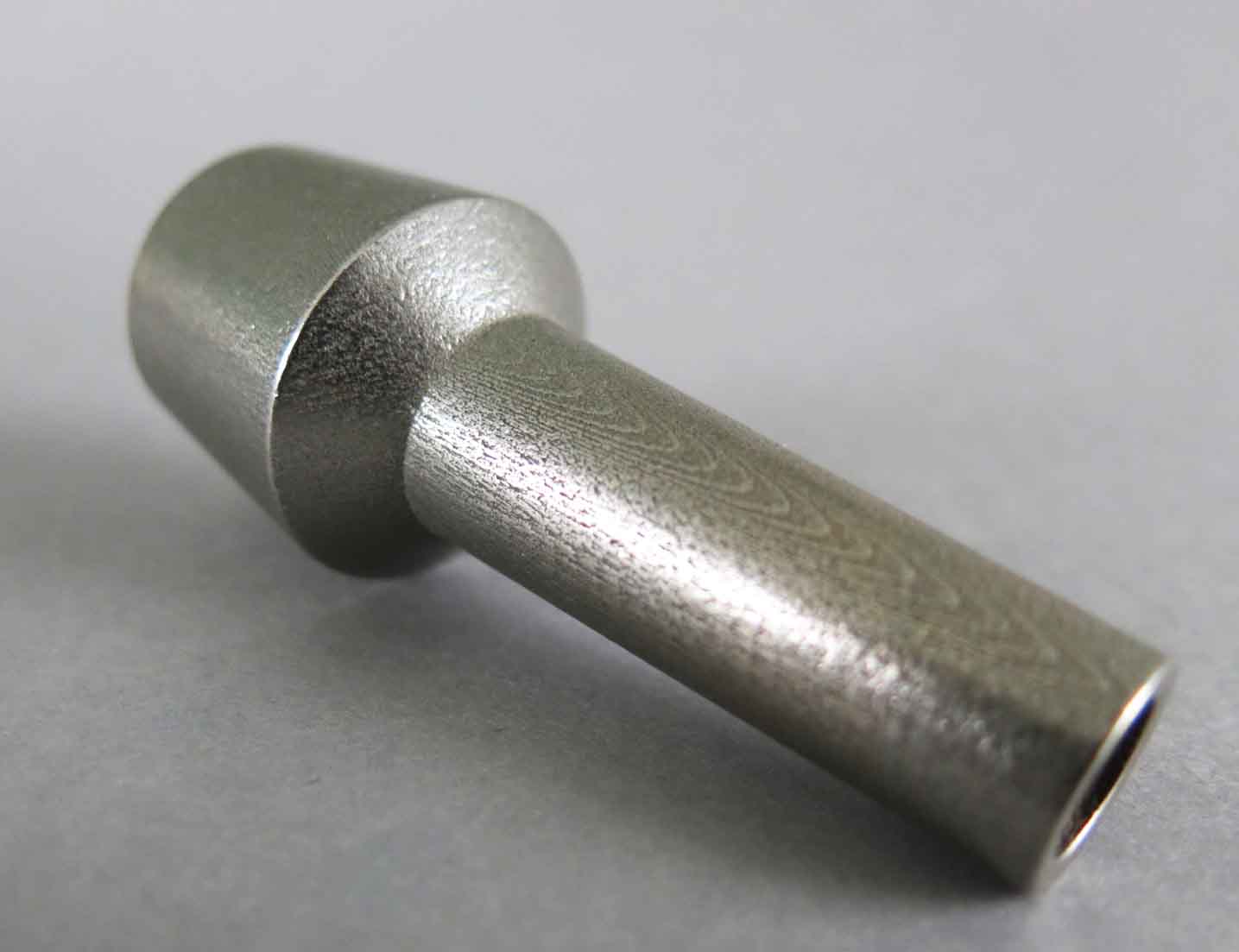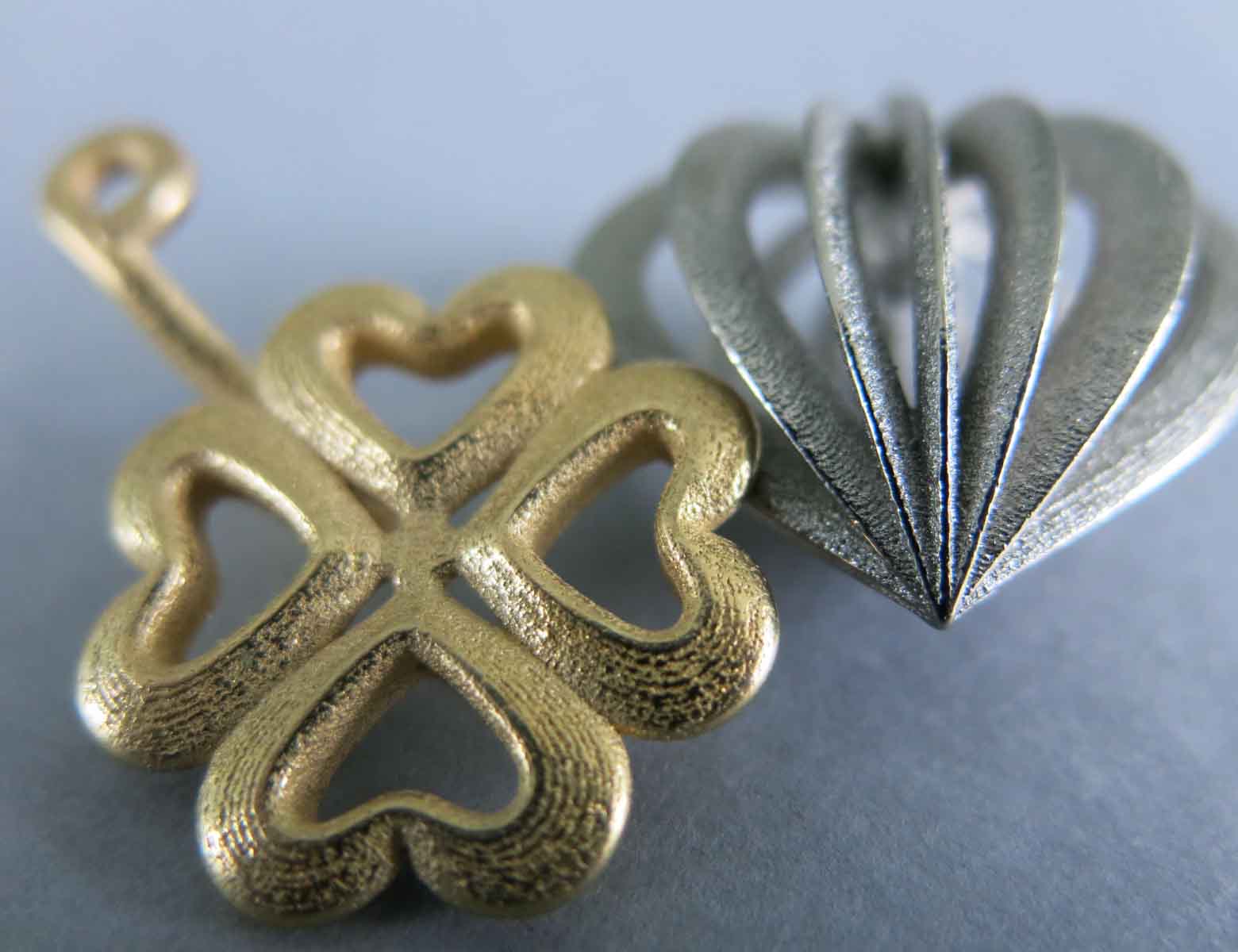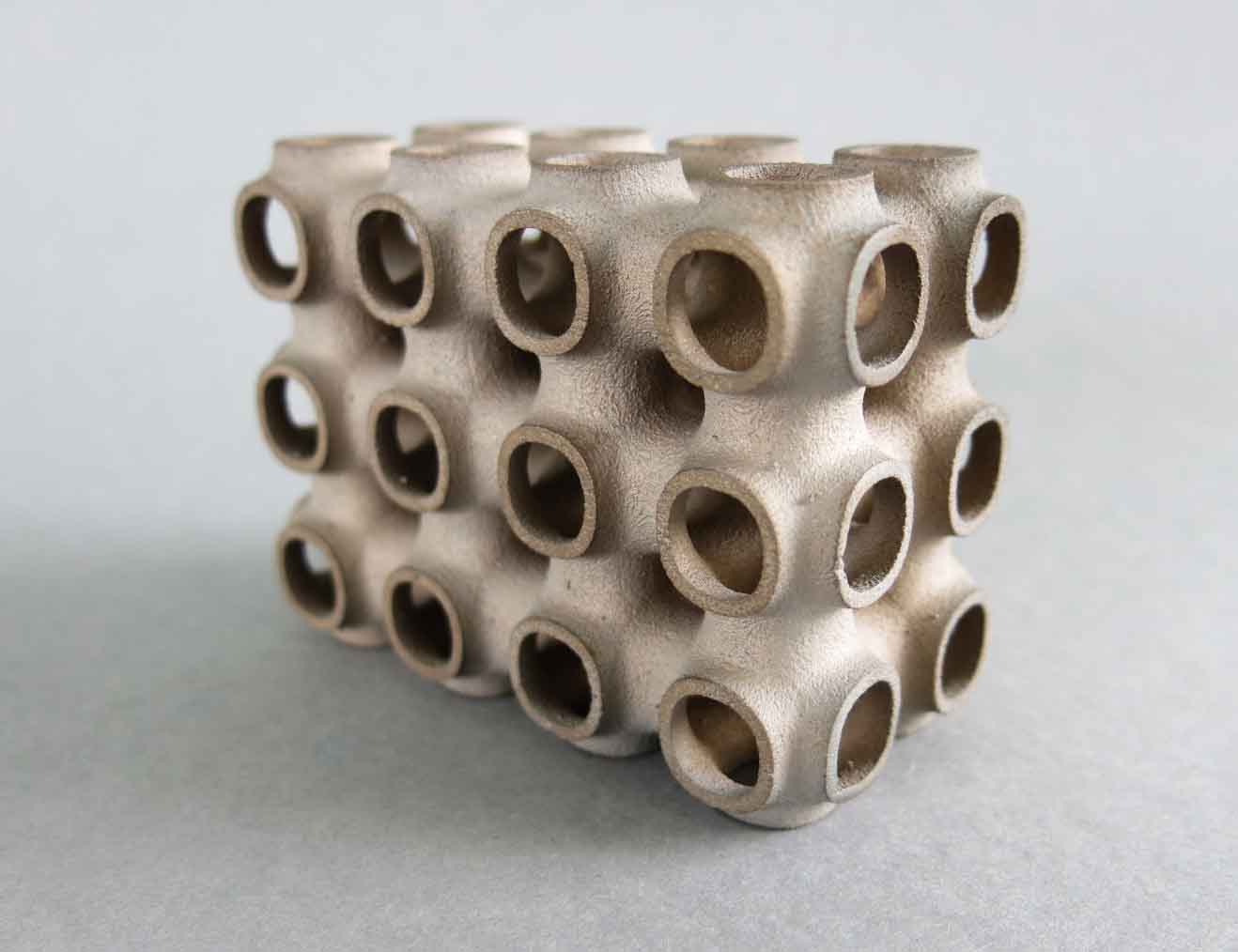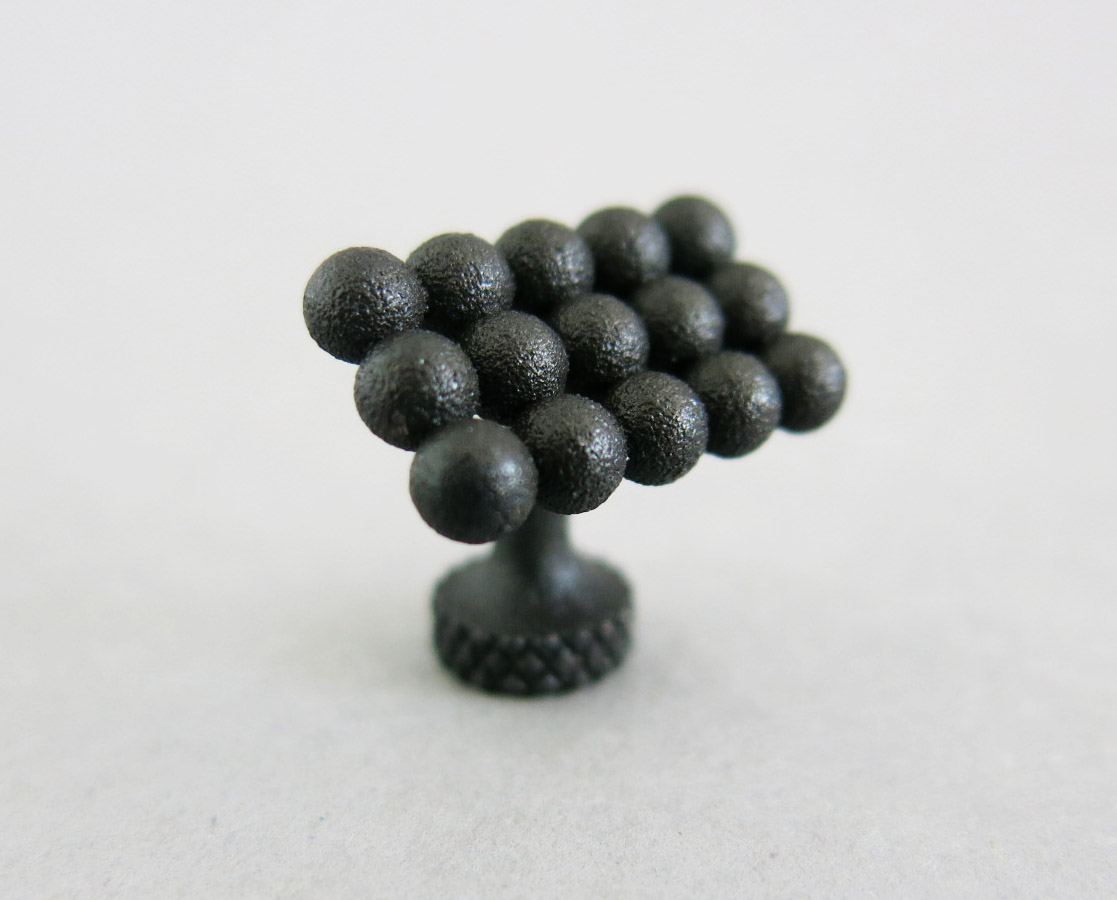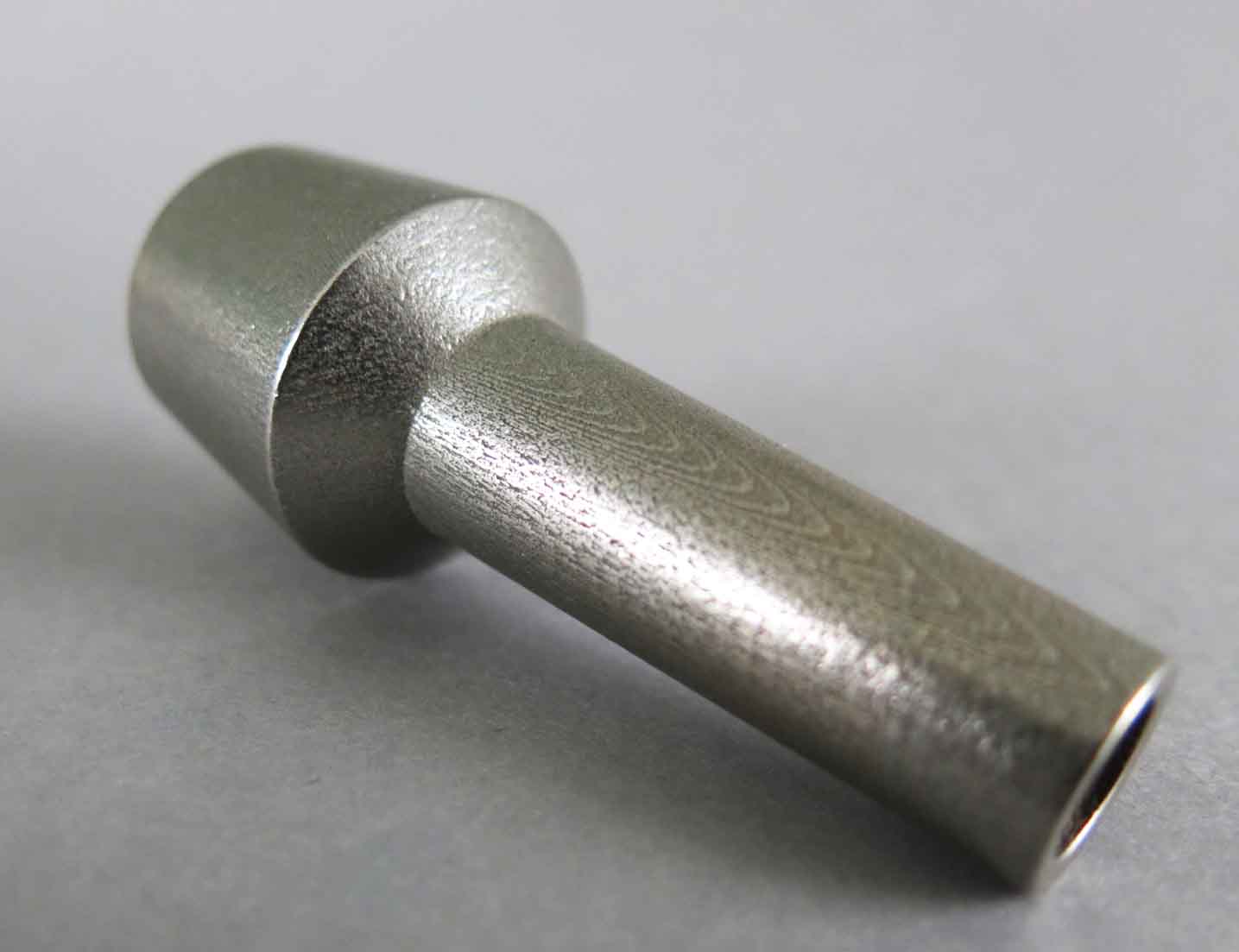 Overview
Here you will find all the information, tricks, know-how, and advice to help you print your 3D model in our binder jetting Steel / Bronze 420SS/BR material. For your information, it's a beta material.
You will learn about the:
General information & Printing Techniques
Our Binder Jetting Steel / Bronze 420SS/BR Material
The Steel / Bronze 420SS/BR material 3D printed with binder jetting is created from a fine stainless steel 420 powder. During the process, the material is infiltrated with bronze material to add strength and resistance to the object. At the end, the material is composed of a base of 60% stainless steel material and 40% bronze material.
The material has relatively good mechanical properties thanks to the infiltration process. However, it cannot handle as much loads and stress as our DMLS stainless steel that's why it is recommended to use it for decorative objects and ornaments.
Unpolished and unplated, the material has a light brown color and a granular surface. Thanks to the finishing options, you can obtain nickel and gold plated colors as well as a polished surface.
To learn more, refer to our paragraph about finishes and colors .
Processing Times and Pricing
The printing price of your design is calculated automatically the moment it is placed online. As you modify your object (changing size, using batch control or hollowing feature, etc.) you will note that the price changes automatically. The pricing is based on a series of factors, including: total volume, object size, and bounding box - to name a few.
The approximate shipping time for binder jetting is 16 days. Plating in gold or nickel can extend the processing time by 2-3 days on average. The estimated shipping time is also calculated automatically as the object is uploaded.
Delivery time should be added to processing time and depends on the delivery option you choose.
Printing techniques
The 3D Printing technique we use for this stainless steel material is called Binder Jetting. After your design is uploaded to the Sculpteo website, it undergoes a couple of steps before it is physically created:
Model transferred to 3D printer

Once you upload your 3D model to our website, it is received by a Sculpteo team member, who expertly places the model into the next available batch. The printer we use for 3D printing binder jetting Steel / Bronze 420SS/BR is an Exone M-Flex.

Object is 3D printed

Binder jetting is a 3D printing technique that uses a binding agent deposited selectively on a powder to join the material particules. Layers of material are then bonded, t he job box lowers and another layer of powder is then spread and binder is added. Over time, the part develops through the layering of powder and binder.

Object is cured

The build box is placed in an oven and cured to be solidified.

Brushing and powder removal

The object is brushed and cleaned to remove the powder.

Object is infiltrated

The parts are placed into a crucible onto runners with bronze powder on a side. The crucible is heated into a furnace. The bronze powder melts into liquid state and infiltrate the parts through the runners. At the end of the process, the runners are cut off.

Brushing and Beadblasting

The object is brushed again, which removes a large portion of the powder, and beadblasted, which removes the fine powder that the brush may have missed.

Polishing and Plating

From there the object can be polished and/or plated depending on the finishing and color you chose. Our polishing technique involves small stones in a rotating/vibrating cauldron - as the stones brush up against the object, small imperfections in the surface are smoothed. We also apply a plating on the object depending on your choice: Nickel or Gold. To learn more, refer to the paragraph on finishes and colors for binder jetting Steel / Bronze 420SS/BR models.
Uses and Maintenance
Binder Jetting Steel / Bronze 420SS/BR offers great 3D printed models and can handle complex shapes. The material has mechanical properties but is more suited for ornaments and decorative objects. Thanks to our gold and nickel plating finishes and our polishing option, binder jetting Steel / Bronze 420SS/BR is perfectly suited for jewelry and fine details decorative objects.
If you want metal parts with great mechanical characteristics, you can take a look at our other metal materials.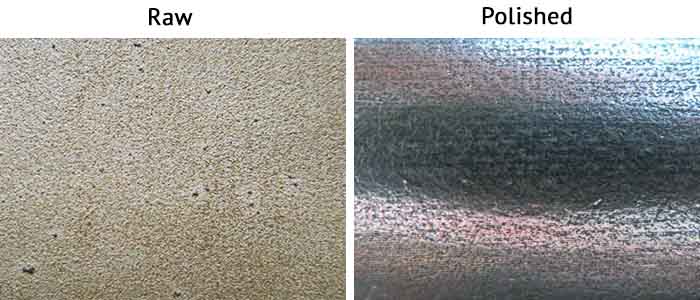 The surface of the raw Steel / Bronze 420SS/BR and plated version is granular and slightly porous. The polished version is smoother but the layers can still be visible on rounded surface.
The Binder Jetting Steel / Bronze 420SS/BR can be painted, welded, powder coated, drilled, tapped, machined.
Content Policy
Our partner Exone has a strict policy regarding the parts that we produce - in addition to our terms, we kindly remind you that none of these kinds of items can be 3D printed using BinderJetting materials:
- Any file that would constitute a firearm
- Models that would aid in breaking the law
- Any religious content
- Any sexual content, especially any content that exploits child sexuality
Finishes and colorings
Color & Finishing Options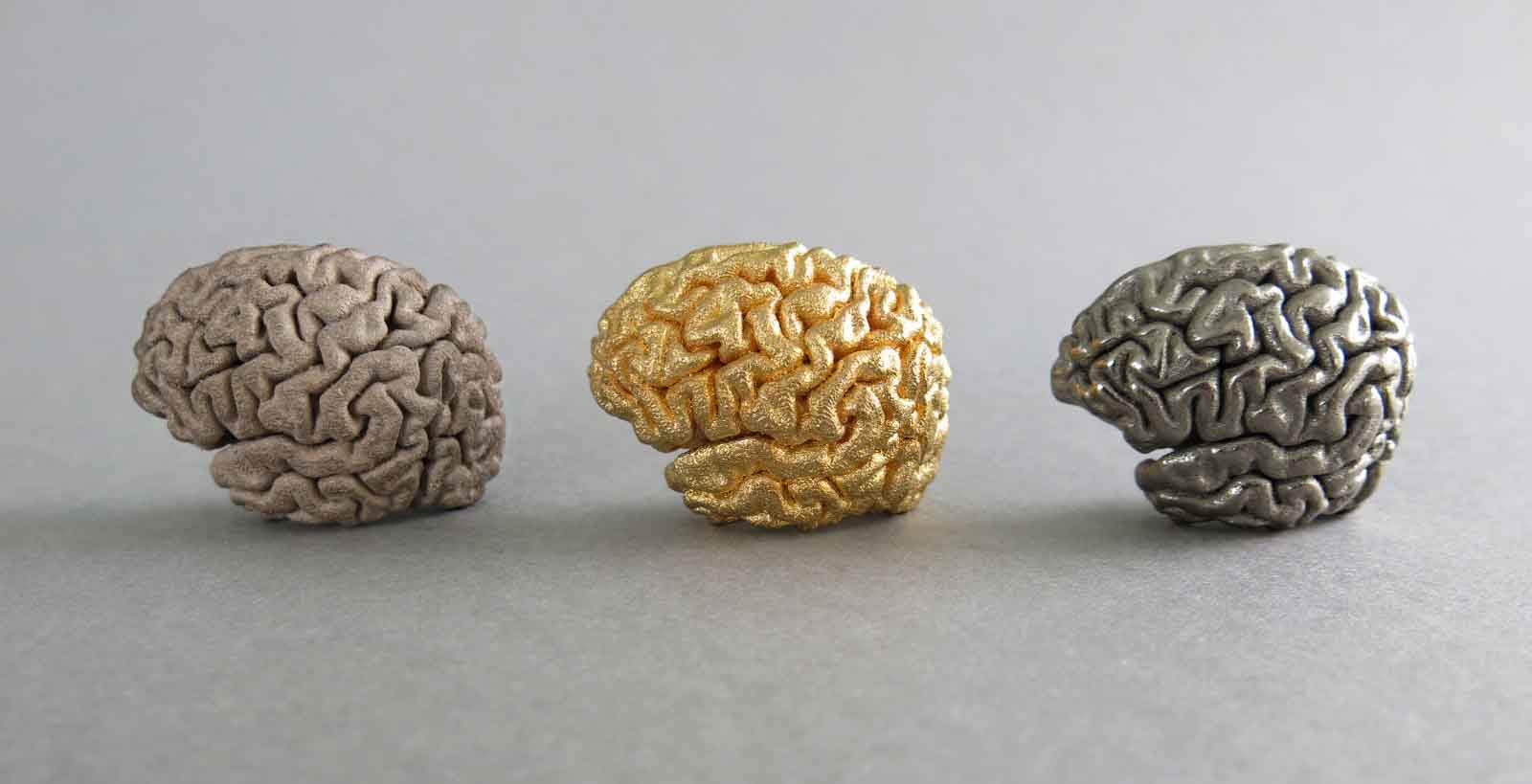 There are multiple coloring and finishing options available through Sculpteo.
Finishing options:
Raw: sandblasted but unpolished, surface remains somewhat rough, most economical.

Polished: polished through mechanical polishing, smoother to touch, layers still somewhat visible on rounded objects.

Binder Jetting Steel / Bronze 420SS/BR has a light brown surface color when it comes out of the machine. Through Sculpteo's 3D printing service, you have access to plating option :
Nickel plated

Gold plated
The plating we use is 24karats. In order to apply the plating, we need to have a line of sight to adhere.
Parts with internal channels or holes/features are not good candidates for plating.
The plating process uses a small plating line that requires manual setup and unload. It's important to note that plating is purely decorative, and that the colors may vary slightly from one plating to another. Also, plating can wear off over time, especially if the part is used very frequently.
Another finishing option is available for
Binder Jetting
Steel / Bronze 420SS/BR
: Damascus finish allows you to obtain a black color for your 3D parts.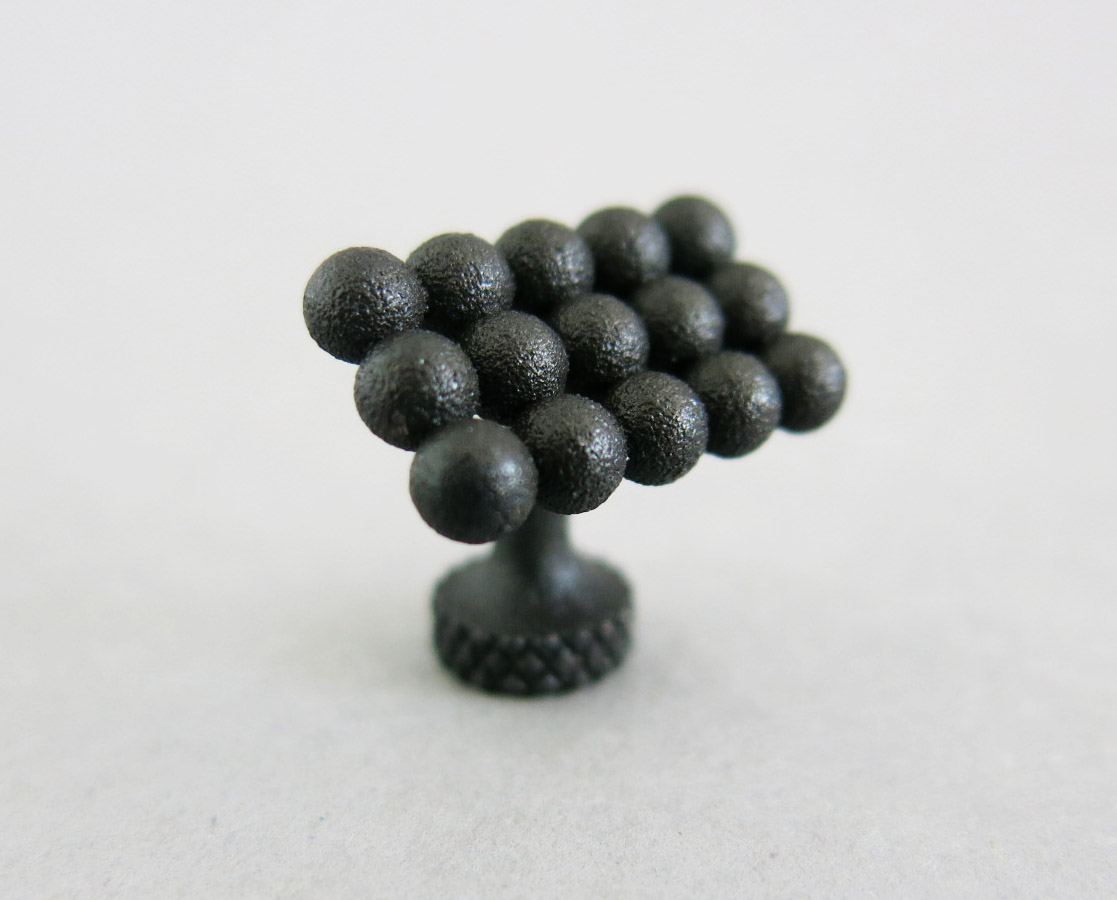 The polishing and plating processes introduce a size restriction on your object. To learn more please check out size restrictions. Moreover, not all designs can be polished or plated, and in some cases you will be informed that the finishing you asked for is not available. In particular: wire-framed parts, fragile parts, thin-walled parts, and large flat parts cannot be polished; and part containing fluid-holding type cavities cannot be plated.
Design Guidelines
Printing Resolution
| | |
| --- | --- |
| Standard layer thickness | 100 µm (0.004 in) |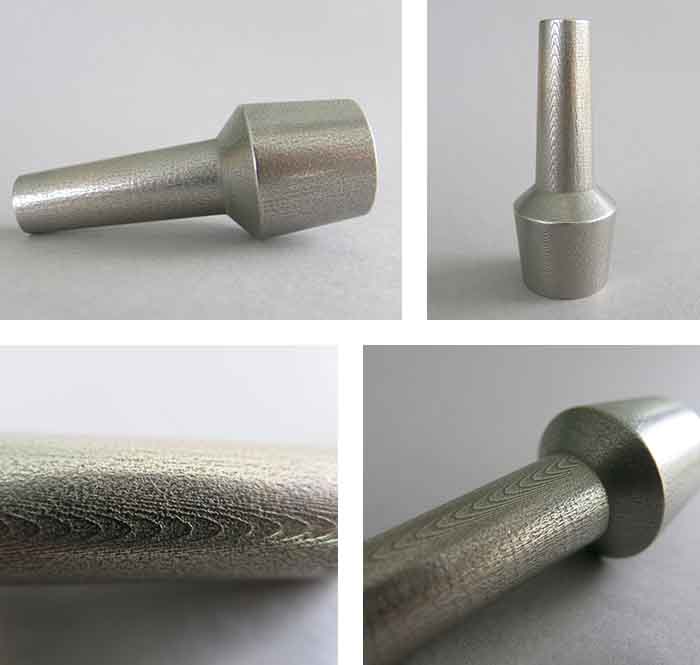 The layer thickness for our Binder Jetting Steel / Bronze 420SS/BR is 100 µm. Shrinkage may occur during the ExOne process. Thus, parts should be designed with the following shrinkage considerations:
Parts up to 7.62 cm (3 in): up to 2% shrinkage (On Average)

Parts more than 7.62 cm (3 in): up to 3% shrinkage (On Average)



Size Limitations
Minimum size
0.3 x 1.27 x 0.8 mm (0.125 x 0.5 x 0.3 in)
Minimum size polished
15 x 15 x 15 mm

Maximum size raw & unpolished
400 X 250 X 250 mm
Maximum size plated & unpolished
177.8 x 177.8 x 177.8 mm (7 x 7 x 7 in)

Maximum size polished
152.4 x 152.4 x 152.4 mm (6 x 6 x 6 in)


The maximum size of your models are limited by the physical size of our 3D printers - nothing can be printed larger than the printer bed. The same goes for our polishing and plating tanks - if it doesn't fit, it can't be used.
Minimum Thickness and Geometry of Your 3D Model
Minimum wall thickness for object
1.1 - 3.2 mm depending on build dimensions
Minimum wall thickness (rigid)
2 mm
Minimum wall thickness stemmed elements
0.8 mm with support
1.1 mm without support
Minimum wall thickness particular design aspects
2-3 mm

The walls of your design must adhere to a minimum thickness in order to guarantee the structure will not break. We recommend that you design your model by respecting the minimum thickness that is specific to Binder Jetting Steel / Bronze 420SS/BR and which is variable depending on the size of your part.
For dimensions smaller than 76 mm (3 in): 1.1 mm (0.04 in)

For dimensions between 76 mm (3 in) and 152 mm (6 in): 1.52 mm (0.6 in)

For dimensions between 152 mm (6 in) and 203 mm (8 in) : 2.03 mm (0.08 in)

For dimensions between 203 mm (8 in) and 305 mm (12 in) : 3.18 mm (0.125 in)
If the walls of your model are less than 1.1 mm, you can add a support structure to maintain stability.
A stemmed element is a design aspect which is at least twice as long as it is thick. For unsupported and stemmed elements or parts of the design with a particular design constraint, it is also important to respect a minimum thickness of 1 mm in order to guarantee the object will not break.
Tips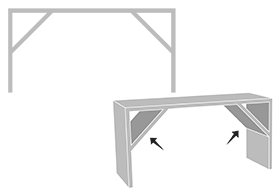 Add a support structure to maintain stability. For example, if you are modelling a bust of a person, you can attach thin aspects of the design like the ears in more places around the model's head. Doing that will avoid cantilevered and easily breakable elements in the final print.
Good to know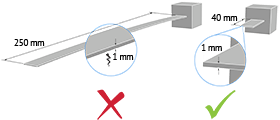 Thin walls supporting large, heavy stainless steel models can warp under the weight of itself.
Sculpteo offers an online solidity check tool which highlights parts of the print that may be too thin for a print. From there you are able to tweak your design in order to create an object that is an appropriate thickness. To use it, you just need to upload your 3D file , select your material and click on the "Verification" tab.
It is also important to keep in mind that the object is meant to be printed in real life. Thus if a thin aspect is supporting something that is too heavy for it, it may break - even though it is possible within the physics provided by your 3D modeling software. We recommend adding a bit of thickness to the places that will get a lot of handling, or that support the most weight.
Do not forget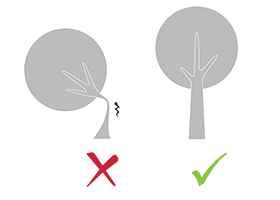 Keep in mind that our solidity check tool does not detect physical aberrations such as floating parts, unstable position, parts supporting too much weight relative to their thickness, etc. Particular care must be given to the geometry of your design and the most stressed parts must be thickened.
Overhangs and Inside Edges
Overhangs must be designed to support their own weight. Unsupported features over 25.40 mm. (1.00 in.) will not be accepted. Fillets help support overhang structures during furnace processing.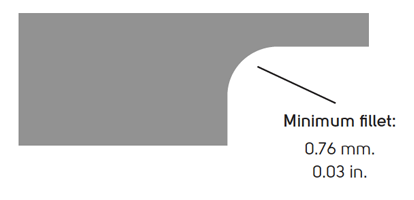 Inside edges and sharp intersections need to have a filleted edge that meets the required wall thickness minimum. Filleted edges help ensure successful part tolerances.
Knife/Pointed Edges

Knife edges/pointed edges will fail during the depowdering process. Fillet all knife edges with a 1.00 mm (0.03 in.) radius to avoid breakage during depowdering.
Edges that come to a point lower than the recommended tolerance are subject to rejection.
Parts will be rounded in polishing.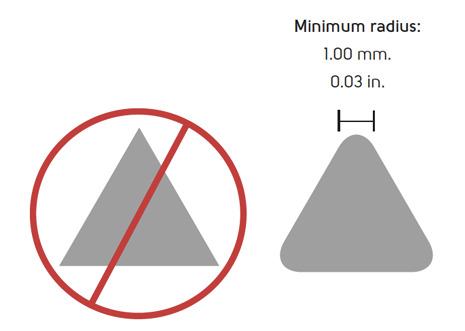 Stilts

Sculpteo will typically add a stilt to your part. Stilts are necessary to allow bronze to infiltrate the part in post-processing. Stilt placement can be difficult because of part design. Texture and surface areas should be considered in designs.
Texture: Stilts need a smooth surface to be placed on

Surface area: Stilts require a surface area of 0.05in x 0.03in/ 1.27mm x 0.762mm

Part will have slight blemish from stilt removal.
We will attempt to keep the blemish miminal.
Stilt will appear more prominent depending on the selected finish.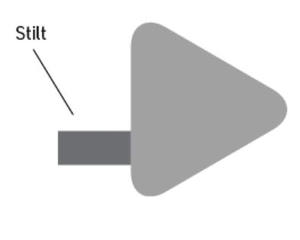 Etching/Embossing Depths
Minimum size of details
0.76 mm
Minimum height and width details
Embossed : 0.76 mm
Engraved : 0.76 mm
Minimum height and width for a readable text
0.76 mm
Enlargement ratio
1/1

A detail's minimum precision is mainly determined by the resolution of our 3D printers. However, during the cleaning process, a fine layer of detail can also be lost. In order for a detail and text to be visible we recommend following our recommended sizes at the very least.
It's possible that particularly fine embossings and engravings will not be visible, as the carving could get filled with excess of powder that is later unable to be cleaned out. If an embossing or engraving is an essential part of your design we recommend making them as deep as possible. To ensure a better powder removal (thus a better detail visibility), the width of your details must be at least as big as depth.

Enclosed and Interlocking Volumes
| | |
| --- | --- |
| Enclosed parts ? | No |
| Interlocking parts ? | No |

Our Steel / Bronze 420SS/BR material is not well suited for enclosed volumes and interlocking parts.
Piece Assembly
Hollowing
Hollowing ?
Yes for raw parts
No for plated parts
Minimum size of hole
2.54 mm

Hollowing your Steel / Bronze 420SS/BR parts allows you to make them lighter, and reduce the price of printing but it is necessary to respect a minimum diameter. Otherwise we will not be able to remove the powder completely from the inside cavity and the holes may become clogged during infiltration.
Our online hollowing optimization tool has the ability to calculate this automatically.
Using the tool requires adding two holes to your model, which will serve as the drain for the excess powder material within the object. The minimum size of these holes is determined by our website. Otherwise it is possible to hollow your object manually in your 3D modeling software.

We kindly inform you that hollowed parts can not be plated.
Files with multiple objects
| | |
| --- | --- |
| Files with Multiple Objects ? | No |

It is not possible to 3D print a 3D file containing several objects with our 3D binder jetting stainless steel printers.
Multiple objects and clusters
It is not possible to print a 3D file containing several objects, that's why we cannot accept files that contain clusters of multiple objects. Though, if you wish to purchase more than one identical parts, you can select the number of parts you want to order during the checkout. The more parts you order, the lower your price per part gets.

You can also use our online tools and see our tricks and tips on how to reduce your 3D printing price.
To get more information on your metal additive manufacturing service, you can contact our qualified sales team.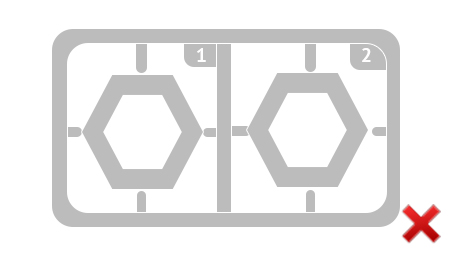 Technical specifications
| Mechanical Properties | Conditions | Unit | Value |
| --- | --- | --- | --- |
| Hardness | ASTM E18 | HRb | 93 |
| Tensile Modulus | ASTM E8 | GPa | 147 |
| Tensile strength | ASTM E8 | MPa | 496 |
| Elongation at break | ASTM E8 | % | 7 |
| Density | MPIF 42 | g/cm3 | 7.86 |
| Melting Point | | °C | 800-850 |
To learn more about Binder Jetting Steel / Bronze 420SS/BR technical specifications, refer to the following documents:
×
Other materials available on Sculpteo: