3D Printing Material: Bronze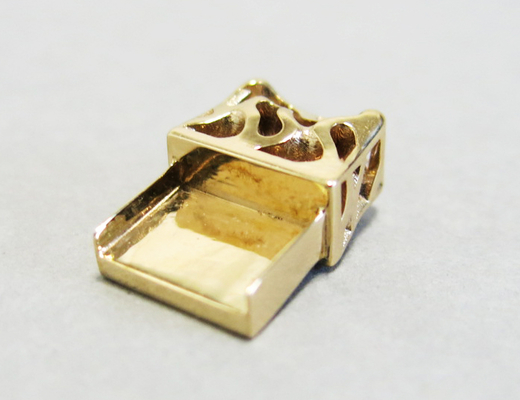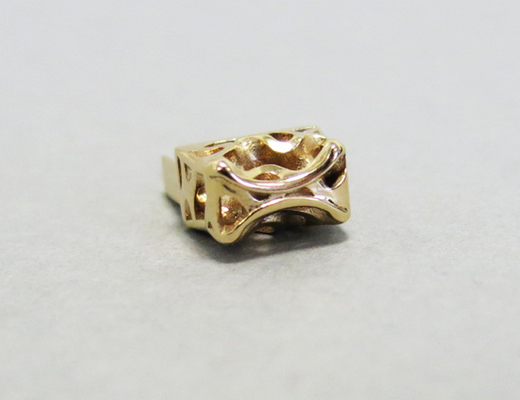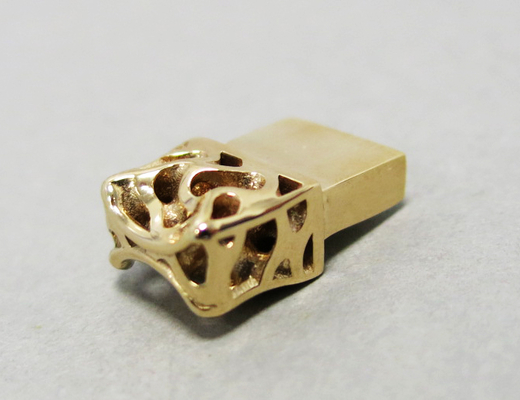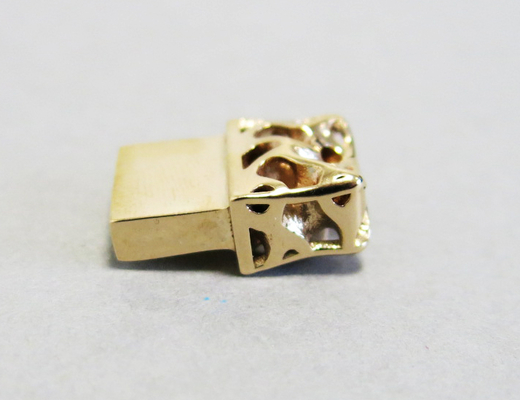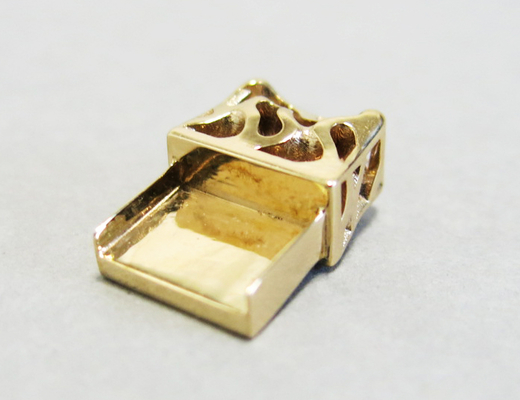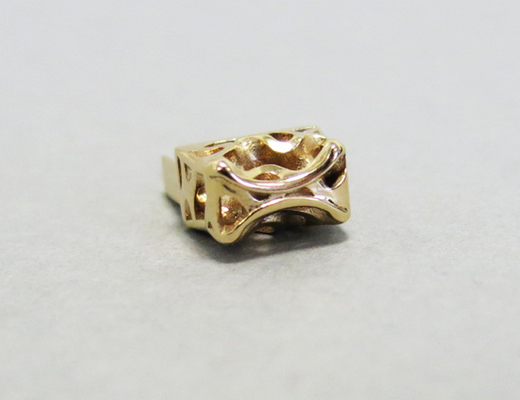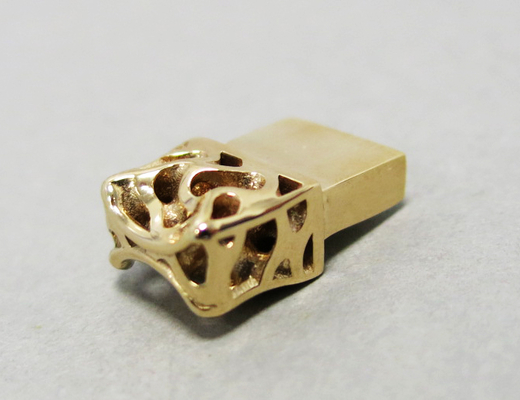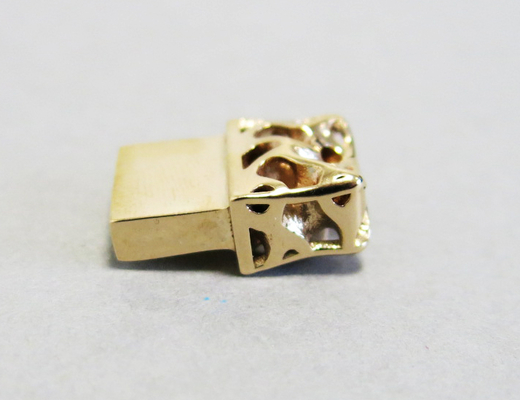 Overview
Here you will find all the information, tricks, know-how, and advice to help you print your 3D model in our bronze material. You will learn about the:
General Information Printing Techniques
Our Bronze Material
Sculpteo's bronze material is composed of 90% copper and 10% tin. It comes in two finishes: Raw and Polished. Its surface is reddish - yellow and thus it is a perfect choice for decorative objects, jewelry, belt buckles etc.. Moreover, our bronze material is finished to a Standard 14K color and it is characterized by better resistance to tarnish than brass alloys. Last but not least, it has a harder surface that doesn't gets oxidized. Bronze is an affordable option when it comes to metal 3D printing.
Processing Times and Pricing
The printing price of your design is calculated automatically the moment it is placed online. As you modify your object you will note that the price changes automatically. The pricing is based on a series of factors, including: total volume, surface, object size, and bounding box.
The raw bronze parts are shipped in 7 business days and the polished ones are shipped in 9 business days. That lead time can vary depending on our 3D printers' load. The estimated shipping time is also calculated automatically as the object is uploaded.
Delivery time is in addition to the processing time. The shipping speed is determined by the shipping option you choose at checkout.
Printing Techniques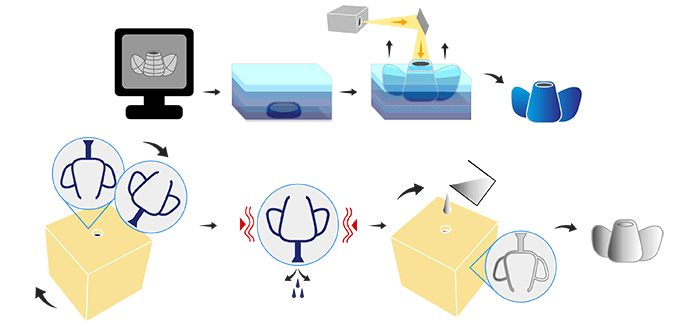 For our bronze 3D prints, we use a lost-wax casting technique. In first place, it is 3D printed the original wax model. From there a mold is made around the wax, before it is melted and filled with bronze, creating your 3D model. This is the exact procedure we follow:
Model transferred to 3D printer

To begin with, you have to create your design with a 3D modeling software, and then online 3D printing service . Then, our online 3D printing tools automatically generate a set of supports for your 3D model in order to be printed in wax. Those supports are removed after the printing process

.




Wax object is printed

During the printing process of the wax model, the 3D printer generates small liquid wax layers which are deposited on a printing bed. The procedure is repeated for several series of layers until the final product is fabricated. This particular process allows for an extremely high level of precision in your designs.

Object casted

Supports that were printed to maintain the objects stability during the wax printing process are removed, and the wax model is covered with a stone-like material. Two holes are left in the stone to heat and drain the wax and refill with bronze.

Cast removal and finishing

The cast is then removed by hand to ensure the solidarity of the 3D printed part.
Uses and maintenance
Our bronze models can encounter prolonged skin contact, and will cause no harm in doing so. In fact, our bronze material is particularly adept for jewellery creation, such as rings, pendants, bracelets etc..
We recommend keeping your bronze models separately from your other jewels and to clean them using a soft cloth slightly moistened with soapy water.
You should be aware that bronze parts will naturally tarnish with time and wear, and you may lose the reddish vibrance of the object.

Design Guidelines
Printing Resolution
| | |
| --- | --- |
| Standard layer thickness | 25µm |

Our 3D printer, the Project 3500 CPX HD, allows us to print in high definition with a layer height of only 0.025 mm.
As a result, it is important that your uploaded file is the highest quality possible, such that no triangulation will occur in the final print. Yet, keep in mind that your 3D file cannot be up to 50Mb in size.
The layer thickness for our Bronze is 25 µm. Shrincage may occur during the printing process. Thus, parts should be designed with the following shrinkage considerations:
Raw parts: up to 2% shrinkage (On Average)

Polished parts: up to 3% shrinkage (On Average)



Size Limitations


| | |
| --- | --- |
| Maximum size | 88 x 88 x 120 mm |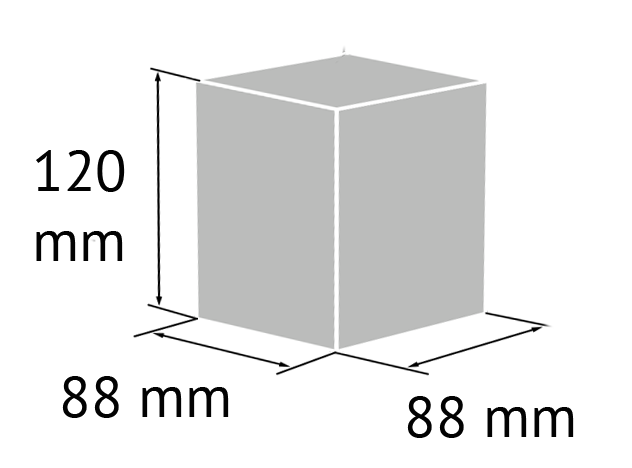 The maximum size of your models are limited by the physical size of our 3D printers - nothing can be printed larger than the printer bed.

Minimum Thickness and Geometry of Your 3D Model
| | |
| --- | --- |
| Minimum wall thickness | 0.8 mm |
| Minimum wall thickness stemmed elements | 1 mm |
| Minimum wall thickness particular design aspects | 1 mm |

The walls of your design must adhere to the minimum thickness in order to guarantee the structure will be supported without breaking under its own weight. If the walls of your model are less than this minimum, you should simply thicken the walls in 3D designing program or choose a material more adapted for thin designs.
Thus, mind to adapt the wall thickness for the polished cast materials at least at 0.8mm. In wire it should be 1.20mm.
A stemmed element is a design aspect which is at least twice as long as it is thick. For unsupported and stemmed elements or parts of the design with a particular design constraint, it is also important to respect a greater thickness in order to guarantee the object will not break.
Good to know
Bronze is a relatively malleable material. Most stressed and fragile area may be distorted. We recommend that you thicken them to avoid distortions.
Sculpteo offers an online solidity check tool which highlights parts of the print that may be too thin for a print. From there you are able to tweak your design in order to create an object that is an appropriate thickness. To use it, you just need to upload your 3D file , select your material and clic on "Verification" tab.
Do not forget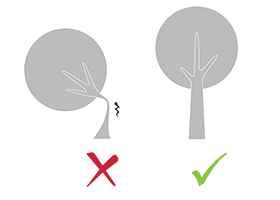 Keep in mind that our solidity check tool does not detect physical aberrations such as floating parts, unstable position, parts supporting too much weight relative to their thickness, etc. Particular care must be given to the geometry of your design and the most stressed parts must be thickened.


Enclosed and interlocked volumes
| | |
| --- | --- |
| Enclosed parts ? | No |
| No Interlocking parts ? | No |

Bronze models do not have the ability to be printed with objects enclosed within another object. This is because the object is first printed in wax, which requires supports for otherwise free-floating objects.
Minimum spacing and clearance

For a successful 3D print in wax that will later be casted into bronze, a minimum space of 0.3 mm is required. This allots enough space for the excess was liquid to drained from between the object's walls during the printing process. A gap of less than that will result in defects in the final product.
Piece Assembly

Assembled pieces are currently not possible with our bronze printing option.
Hollowing

As the print is first carried out in wax, the object cannot be hollowed in the manner some of our other materials are able.
Files with multiple objects
| | |
| --- | --- |
| Files with multiple objects | No |

This is not possible to 3D print a 3D file containing several objects in bronze.
Multiple objects and clusters
It is not possible to print a 3D file containing several objects, that's why we cannot accept files that contain clusters of multiple objects. Though, if you wish to purchase more than one identical parts, you can select the number of parts you want to order during the checkout. The more parts you order, the lower your price per part gets.

You can also use our online tools and see our tricks and tips on how to reduce your 3D printing price.
To get more information on your metal additive manufacturing service, you can contact our qualified sales team.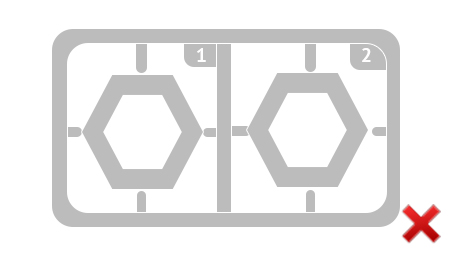 Technical Specifications
Composition of our bronze material
Copper: 90%
Tin: 10%

Other materials available on Sculpteo: