Sculptris: 3D Modeling Software
Sculptris is a free 3D modeling software, which exploits the modeling clay concept.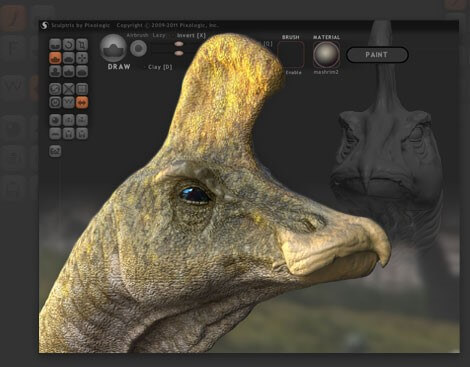 Description
Created by Tomas Pettersson, the project is now developed by the Pixologic team, since 2010, when its inventor joined them.
Its particular modeling style makes the users feel like they are sculpting their object, since the modeling process starts with an intact piece of modeling clay the user will adjust little by little by pulling, pinching, twisting and pushing it.
Interesting Features
Dynamic Tessellation: no more worries about the model geometry, if there are not enough triangles to display the detail you want, the software automatically divides the area under the brush. Furthermore, if you're adding some volume to your model, the existing polygons are not stretched, as commonly with other softwares, Sculptris will instead add new polygons




GoZ: effortless integration with ZBrush




Symmetry Mode: when sculpting on one side of the model, you can automatically affect the other side symmetrically




Mask System: while working, you can choose to protect some of the areas of your model




Materials: wide variety of materials available for simulation




Automatic UV Creation: the UV map automatically created ease the painting and texturing tasks*




Projection Painting: textures painted with Photoshop can be projected onto your model



Credits
This software is free but if you need more advanced features you can buy its counterpart ZBrush, developed by the same team, for more experienced users.
ZBrush has contributed to the realization of many movies, among which:
The Incredible Hulk




The Avengers




The Lord of the Rings




Iron Man




Star Trek



or videogames, such as:
Assassin's Creed




Uncharted Realism



It was even used to reconstruct an ancient cambodian artifact .
Useful Informations
Read the Sculptris tutorial and start building your Sculptris models now!
If your Sculptris model file contains error making your object impossible to print, check the Sculpteo's repair tutorial or download our ebook Fix your 3D files for 3D printing .
In order to have a 3D printed object of your model you can export your file into an OBJ format by following From Sculptris to Sculpteo: three points tutorial.
You could also be interested in uArtsy online classes, since we propose a 20% discount for the ones related to 3D printing, get the code for the discount here .
×