3D Printing with Titanium
Titanium is a metal with a number of advantages. Both lightweight and mechanically strong, it is also biocompatible and resists corrosion very well. Because of these properties it is a widely used material in high-tech fields such as aeronautics, space exploration and the medical field.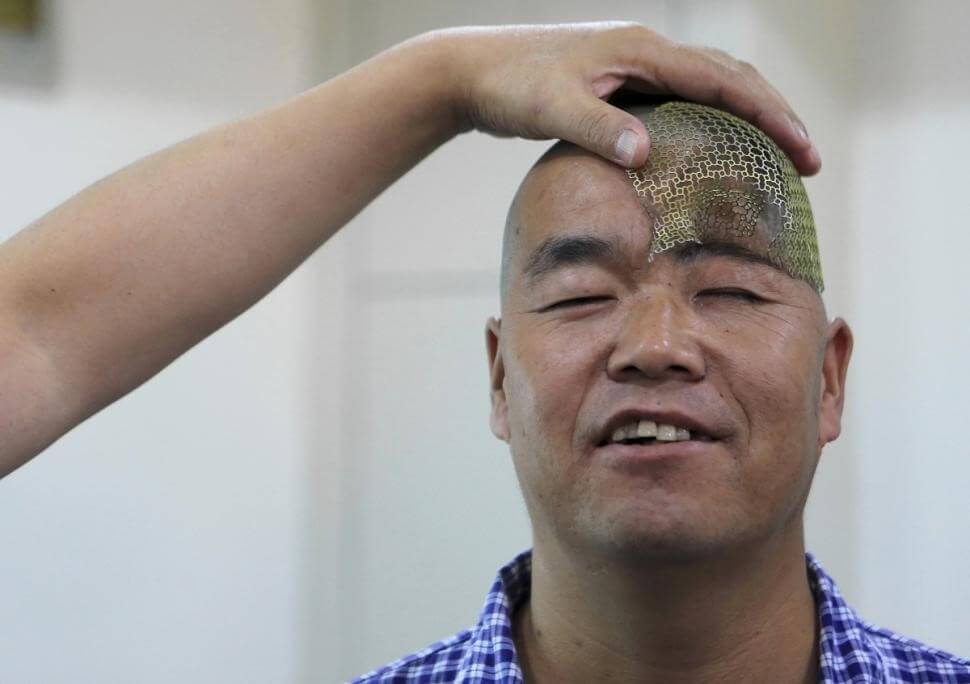 Chinese doctors 3D print a titanium mesh to rebuild half of a man's skull

3D Printing with Titanium: Advantages and Disadvantages
Titanium 3D printing has many advantages when compared to traditional manufacturing methods. Here is a quick overview:
Complexity of parts: Titanium 3D printing can produce complex shapes that would not otherwise be feasible. This creates many possibilities in terms of design and parts optimisation.




Mechanical properties: Parts printed in titanium retain very good mechanical properties and can be produced in a batch. This eliminates welding steps, which can create impurities and areas of weakness in the metal.




Reduced production time and increased flexibility: 3D printing eliminates several steps in the manufacturing processes and allows parts to be produced in a few hours or days, as appropriate.




Reduced titanium waste: Titanium is an expensive metal and traditional manufacturing methods function by removing material. This generates a lot of wasted material (shavings, etc.) and thus a high cost. Titanium 3D printing therefore reduces waste.



However, the cost of titanium 3D printing remains high. The industry still has a few challenges to overcome to improve this technology, such as reducing the cost of titanium powder.
Titanium 3D Printers and Technologies
There are currently many titanium 3D printers on the market. The primary manufacturers of these kinds of printers are Optomec, SLM Solutions, Arcam, 3D Systems and EOS. Here is a list of the main titanium 3D printers on the market, sorted by technology:
DMLS (Direct Metal Laser Sintering)
EOS Titanium 3D Printers: M 280, M 290, M 400
Alloy used: Ti6Al4V

3D Systems Titanium 3D Printers: ProX 100, ProX 200, ProX 300, ProX 400


Alloy used: Ti6Al4V
EBM (Electron Beam Melting)
Arcam Titanium 3D Printers: Q10, Q20 and A2X


Alloys and titanium used: Ti6Al4V Grade 5, Ti6Al4V ELI Grade 2 and Titanium Grade 2
DMD (Direct Metal Deposition)
Titanium 3D Printer: LENS 3D printer


Alloys and titanium used: CP Ti, Ti 6-4 (Ti6Al4V), Ti 6-2-4-2 (Ti6Al2Sn4Zr2Mo)
SLM (Selective Laser Melting)


SLM Solutions Titanium 3D Printers: SLM 125 HL, SLM 280 HL, SLM

500 HL


Alloys and titanium used: pure Ti, Ti6Al4V, TiAl6Nb7
×